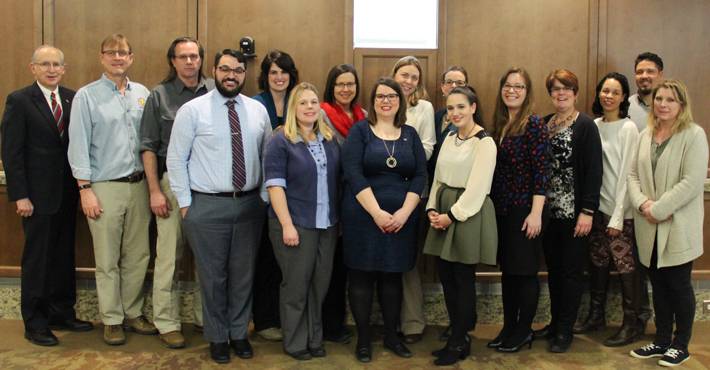 The Ferris Youth Initiative has been established to assist participants with their personal and academic success at Ferris State University. You will be matched as a mentor with a Ferris Youth Initiative participant. The goal is to assist the Mentee with concerns he or she may have about transitioning to college, academic support, getting involved on campus, time management, personal wellness and so forth. To support you in maximizing the value of your experience in the Mentoring Program, the FYI Mentoring Team recommends the following guidelines.
Getting Started
Recognize the Value and Limits of the Relationship
Like any relationship, the mentor/mentee relationship involves a dynamic process in which the uniqueness, individuality, and expertise of each member should be respected. Be open to the information you are offered, some of the advice may seem irrelevant to you, but you may find it useful later. Ultimately it is your choice as to how you weave the insights gained into your own evolving style.
You are not expected to respond to all of your mentee's needs. Be sensible in how you spend your time together and clarify the ways in which you will choose to be supportive. While sharing your expertise, refrain from telling a mentee what to do.
Recognize that one size does not fit all and that some advice you offer may seem irrelevant to your mentee, but may prove to be useful later on. Assist your mentee in recognizing the options available for action and selecting the one that will work best for him or her. Your guidance and wisdom is nevertheless invaluable. Look for opportunities for your own enrichment, as mentors often find value in the questions or fresh perspectives of mentees.
Clarify Your Interests and Needs
Your mentee will be asked to carefully identify his or her personal and academic goals for this mentoring relationship. Mentees will be encouraged to consider questions they may have about such areas as academic support, time management, making connections, or balancing work, academics, and social life. Your mentee will also have completed a development plan and will be encouraged to share that the results of it with you. You are encouraged to review this plan and related goals with your mentee periodically.
Plan to share your experiences, perspectives, and approaches to accomplishing your degree and professional success. An exploration of some of the key aspects that have occurred in your life can be particularly helpful. Consider sharing some of the challenges you were confronted with in terms of overcoming obstacles. It may be very helpful to identify how you sought out support, steps you took to aid you in surviving college, and the options you utilized in overcoming various problems.
Your mentee will be encouraged to seek feedback from you on his or her academic and personal successes. When giving feedback, be mindful of preserving your mentee's sense of self-confidence. Give clear, non-judgmental descriptions of behavior. Assist your mentee in recognizing potential outcomes prior to him or her taking actions.
Mentee/Mentor Meetings
Setting up Connection Meetings
Your mentee will be asked to take the responsibility for setting up the first and subsequent meetings in the mentoring program. Experience has shown that relationships of this kind are most successful when the mentee takes the responsibility for managing the relationship. If you do not hear from your mentee by the early September (Fall Semester) and January (Spring Semester) please initiate the first contact to ensure the relationship gets underway.
Your mentee may contact you by e-mail, letters, phone, text, or fax and will use these methods to maintain communication with you. Agree upon when and where you will meet your mentor's office, a breakfast meeting, etc. Plan to keep your commitments and be on time for your meetings with your mentee.
It is also important that you clarify confidentiality. Some mentee and mentor pairs will feel a need for complete confidentiality in their relationship, others will not. It is critical that you and your mentor clarify the limits of confidentiality in your relationship.
Structure Your First Meeting
It can be helpful to structure the first meeting because both partners often begin a mentoring relationship with high expectations and some uncertainty about how to proceed. Give some thought to how you would like the meeting to go. Your mentee has been provided the following outline as a possible example for structuring the first meeting:
Agree Upon the Duration, Frequency and Length of Your Meeting
Four one hour meetings each month are required for the mentoring program. Agree upon when and where you will meet (your mentor's office, a breakfast meeting, etc.). Plan to keep your commitments and be on time for your Connection meetings with your mentor.
Clarify Confidentiality
Some mentee and mentor pairs will feel a need for complete confidentiality in their relationship, others will not. It is critical that you and your mentor clarify the limits of confidentiality in your relationship.
Suggestions for Mentees
Share your personal background and reason for participating in the FYI Mentoring Program.
Review your goals with your mentor regarding attending college or your participation in the mentoring program.
Identify ways your mentor can support you.
Summarize key things that you've learned and express appreciation for the meeting.
Suggestions for Mentors
Show genuine interest in your mentee.
Share your personal and professional background, as you feel appropriate, and your interest in participating as a mentor in the FYI Mentoring Program.
Review the aspects of your role as a faculty or staff member in the FYI in which you feel you could be particularly helpful.
Clarify which of your mentee's goals you believe you can support.
Help your mentee develop a focus and agenda for your next meeting.
Suggest relevant support services and resources to assist your mentee with concerns or issues he or she may be experiencing, as appropriate, in preparation for your next meeting.
General Conversation Starters for Mentors
Tell me briefly about who you are.
Tell me an embarrassing thing that happened to you lately.
What is your favorite sport and why?
Is there anything you would like to share about your most recent experiences before prior to coming to college?
What do you when you feel you are in trouble?
What is your favorite book and why?
How were you in school prior to coming to Ferris?
Let's talk music. I listen to. . . .
Who were your role models growing up?
What do you want to do after you are done with your degree?
What do you do for fun?
What is the latest movie you have seen?
When was the last time you were recognized for your accomplishments?
Manage the Mentoring Relationship
Mentees will be encouraged to set goals for future meetings. As with all goal-setting, you do not need to strictly adhere to the goals you initially agree to; more vital matters or pressing priorities may arise. Nevertheless, some foresight and support in advanced planning can keep your relationship productive and worthwhile for both participants.


Structured mentoring relationships such as these are not intended to be permanent, ongoing relationships. This program is specifically time-limited to allow you to support your mentee's learning without long-term obligations. At the same time, after the formal program's conclusion, you may continue your relationship informally, if you wish.


Support your mentee in recognizing his or her achievements and encourage your mentee to use resources inside and outside the mentor program to continue to develop. Encourage your mentee to take reasonable risks and try out new skills. Recognize the value of your role in supporting this student and the long-term, beneficial effect that can result from short-term relationships of this kind.