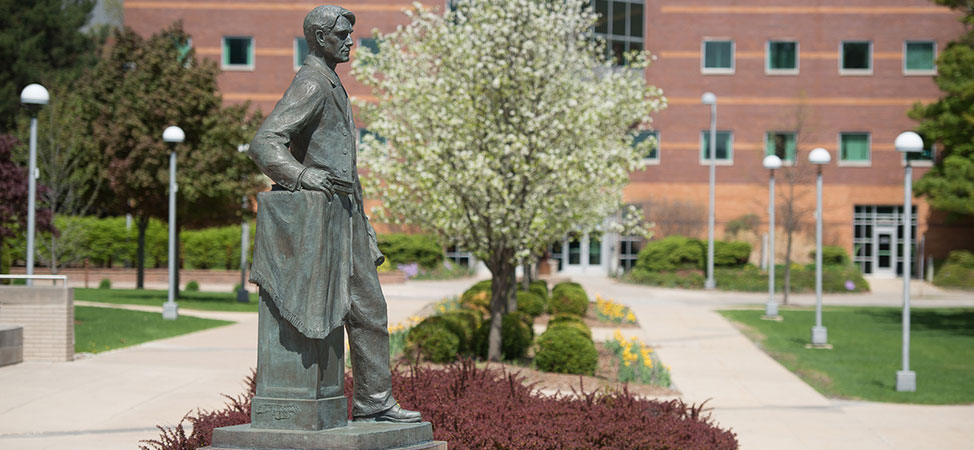 The idea for a memorial sculpture of W.N. Ferris was first suggested by John Schauble, a commercial art professor at Ferris, at a brainstorming session with Stanley Dean, chair of the ad hoc committee for the centennial planning. Steve Savickas, Associated Student Government senator, became very interested in the ideas as a student project for the upcoming Centennial. He took a watercolor rendering off the statue by Schauble to the student government meeting, where the project was adopted.
Numerous discussions were held, but no formal action transpired during the 1981-82 academic year. However, during this time students Jim Glovan, Gary Moore, Christopher Smith and others, kept the idea alive and continued to work on generating interest and support.
The project finally took off with a bound following the May '82 graduation ceremonies when Dacho Dachoff and Ed Maj were informally chatting with Board of Control Chair Earl Gabriel and Stanford Stoddard, president of the Michigan national Corporation, who had just received an honorary doctorate degree from Ferris. Dachoff explained the statue project to Stoddard. Stoddard, a patron of the arts, became excited about the idea of a Centennial sculpture and enthusiastically pledged his support. Soon thereafter, he and Robert Gerholz, long-time Board of Control member and alumnus, raised nearly $13,000 to kick-off the fundraising! In addition, Stoddard suggested that Avard Fairbanks, an internationally renowned sculptor from Salt Lake City, be contacted with the possibility of creating the sculpture.
President Robert L. Ewigleben gave the go-ahead for negotiations with Fairbanks and a steering committee of students, faculty, and alumni was formed.
Fairbanks was sent a number of reference materials on W.N. Ferris, including many photographs. After reviewing the specifics and studying the subject, Fairbanks began to work on a proposal and "Sketch" for the steering committee.
In August, 1982, Dachoff traveled to Utah to meet the sculptor and discuss the job. He returned with photographs and materials for the Committee, which was impressed with both Fairbanks' proposal and previous work. A formal agreement was subsequently drawn-up and submitted, and Fairbanks began to work immediately.
During the 1982-83 academic year, a campus-wide fundraising campaign was launched. By July 12, 1983, nearly $38,000 was raised from donations by students, alumni, faculty, staff and friends of the Institution.
The location of the statue site was finalized and approved in July, and work commenced to prepare the grounds for installation and the dedication ceremony.
---
The photos below depict the sculpture in various stages of completion