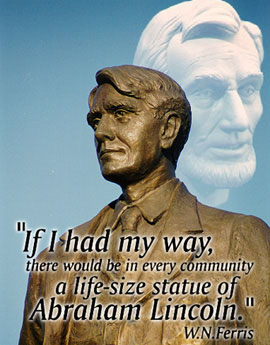 Woodbridge N. Ferris, a native of New York, became a remarkable individual of Michigan. His influence continues to effect the lives of thousands through the practical school he founded in 1884 in Big Rapids, Michigan which has grown to be Ferris State University. As a two term progressive Governor of Michigan 1913-1917 he championed the conservation of natural resources, signed into law the Michigan Historical Commission, faced the perplexing labor-management challenge of the 1914 Copper Strike and in 1914-1915 contributed wisely to the peaceful settlement of the Ohio-Michigan boundary disputes. These actions and others earned him the title "Good Gray Governor."
In 1922 he was elected to the United States Senate where he observed the "Roaring 20's." Shortly before his death in 1928 he penned a visionary undelivered speech to the Senate in which he analyzed and called for the creation of a separate Cabinet level, Department of Education, fifty-one years before it was accomplished.
Perhaps the qualities of character which his son Carleton summarized in his Preface and Mr. Ferris reveals in his humble Autobiography will now help others advance his mission to "Make the World Better."