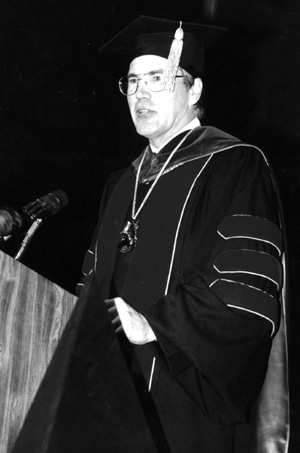 Dr. William A. Sederburg earned his bachelor's degree in education and political science from Mankato State University in Minnesota, where he was raised, and his master's degree and doctorate both in political science and public administration from Michigan State University.
While finishing his education a Michigan State, he was hired at Michigan State as post-doctoral fellow to teach political science and public administration. In 1972, he became the youngest person ever elected to the state Board of Education in Michigan. Soon after that, Sederburg had the opportunity to run for Michigan State Senate as a Republican candidate against a Democratic incumbent, and no one expected Sederburg to be victorious. The state was 70 percent democratic, yet he won the election after his opponent ran into some legal issues.
As a Michigan state senator from 1979 to 1990, Sederburg was responsible for developing the budgets of many state agencies and establishing various state policies. In the 1980s, he organized three successful Mindpower conferences designed to involve colleges and universities in local economic, employment and technological issues. He mainly tackled educational issues and created several initiatives as senator, including the Collegiate Employment Research Institute, the Michigan Information Technology Network and the New and Emerging Task Force. He served in various capacities on several Senate subcommittees concerning not only education, but also mental and public health, aging, the arts, environment and technology.
One of his accomplishments was the creation of a Midwestern Higher Education Commission, a compact between educational institutions in seven states designed to provide better educational opportunities and efficiencies through strong interstate cooperation. The charter and bylaws of the compact were drafted over an 18-month period from 1989 to 1991, and the cooperation became official March 10, 1991.
Not only did Sederburg serve as chair of the drafting task force, but he also then became chair of the newly-formed commission from 1991 to 1994. An eighth state joined the pact, and Sederburg continued developing the Commission by doing things like initiating the creation of a virtual private telecommunication network, a student reciprocity agreement and a property insurance risk management program. He also helped the commission name its first president.
Additionally, while Sederburg served in the Michigan senate, he simultaneously was vice president for Public Sector Consultants, an organization based in Lansing, Mich., which specializes in education, environment and public health research. While working for PSC from 1974 to 1990, he also had his own personal research business, serving clients like fellow congressmen, mayors, local hospitals and television stations. While in the research business, Sederburg conducted more than 150 surveys.
In Michigan, Sederburg also made time to teach and guest lecture on myriad subjects at several local colleges and universities. He has taught at Michigan State University, Alma College, Albion College and Kalamazoo College, on subjects like technology, the political experience, public administration, leadership and the legislative process. He has also guest lectured on subjects like journalism, architecture, finance, psychology, computer science and business. He is well versed and a respected political figure in Michigan.
With this exceptional background, the Ferris State University Board of Trustees in Big Rapids, Mich., was ecstatic to have Sederburg as their 16th campus president. Beginning Aug. 1, 1995, Sederburg did wonders for the school of 11,000 in a town of 9,000. The university, which offers associate, bachelor and doctoral degree programs, witnessed a renaissance in Sederburg's eight-year reign.
In 2001, for the first time since 1977, the university earned the maximum permitted accreditation under the North Central Accreditation team. The initial review noted positive changes in the institution's planning systems, budget and physical plant; the investment in information technology and library resources; the uniqueness and innovation of its niche market programs; and the enthusiasm and pride demonstrated by Ferris students and employees.
In essence, Sederburg revitalized the core activity of the institution. He facilitated the first-ever offering of bachelor of arts degrees at Ferris State, a $100 million campus expansion program, the merging of Ferris State and the Kendall College of Art and Design in Grand Rapids, Mich., and more.
The merging of the University with Kendall College in 2000 increased the educational emphasis on Ferris State's art, technology and design programs. Sederburg took this opportunity to incorporate art into the campus, initiating a Michigan Art Walk, featuring works from Michigan artists in pathways on campus.
The campus facelift does not only include works of art. Sederburg gained capital funds and private sector support to finalize some ambitious construction projects, including the Student Recreation Center (1998), Student Convocation Center (2000), Professional Golf Management Learning Center (2000), The Dow Center for Art, Design and Technology (2001), and the Ferris Library for Information, Technology and Education (2001).