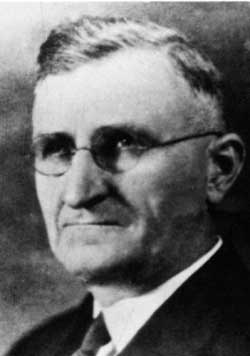 The first paid president in the interim period between 1929 and 1950 when Ferris received state college status was Wells D. White, who served during the 1930-31 school year.
His appointment was prompted by a glowing letter written Jan. 31, 1930, by B.J. Ford, one of the assistants of the state Department of Public Instruction to A.A. Worcester. Ford wrote that White, then superintendent of the Hartland Consolidated Schools, was interested in securing a teaching position at an institution such as Ferris Institute.
Ford said, "He [White] has been employed in his present position for nine years and has been more than ordinarily successful in putting over a big development program. In connection with this, he has enlisted the cooperative interests of a couple of millionaires who have created an endowment for the Hartland Foundation. They have also presented the district with a $25,000 library and other valuable gifts. My thought is that if he were to be employed as a teacher at the Ferris Institute he might be able to help your institution make a connection with these millionaires that would be of substantial value to the school." The college's administrators didn't waste much time in contacting White, not to offer him a teaching job, but the job as president. During his tenure no millionaires were forthcoming to get the Institute "out of hock," and White left completely frustrated at the end of the year to return to Hartland.