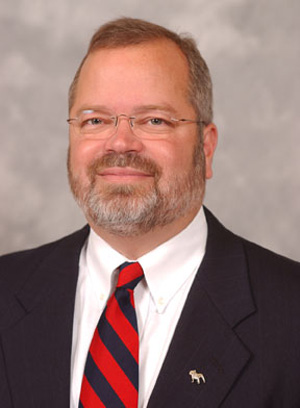 Scott Hill-Kennedy holds the degrees of B.A. from Michigan State University and J.D. from the University of Arizona. He has served as Staff & Union Relations Manager at Grand Valley State University (1993-94); Assistant General Counsel, Ferris State University (1991-93); Lawyer, Varnum, Riddering, Schmidt, and Howlette (1988-91).
Scott started with the University as assistant general counsel from 1991 to 1993. After serving as general counsel since 1994, he was appointed vice president for Governmental Relations and General Counsel in 2000. He also served as interim president and vice president from May to July of 2003. At that time Governor Jennifer M. Granholm appointed Scott Hill-Kennedy to judge of the 49th Circuit Court, which serves Mecosta and Osceola counties. He was elected to continue in that position in the general election of 2006.
During his 13 years with Ferris State University, Scott embraced Ferris' mission and will always believe in what Ferris does for students and the state of Michigan. "I do not think there is a better university to accomplish what is so important in our state today. Students need a fine education, with strong professors, and an excellent preparation to start their career, and Ferris provides that to our students" said Scott. "I will miss being part of an organization that I believe in so much. However, this judgeship is the one other dream I've had in my life, with the first being able to contribute my experience at a university, and I feel fortunate to have done so at Ferris."