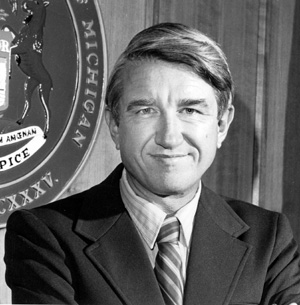 Widely regarded for his leadership in higher education, Dr. Robert Ewigleben amassed a record of achievement during his more than 30 years as a teacher and administrator. Dr. Ewigleben culminated his career as president of Ferris State College, where he served from 1971 to 1984.
Outspoken and direct, Dr. Ewigleben transformed Ferris during his 13 years as its chief administrative officer. During his tenure, the college made more than 40 curriculum changes, and established the Michigan College of Optometry, the state's only such program, the $6 million Manufacturing Resource and Production Center, and what is now known as the Ewigleben Sports Complex. An internationalist, he was instrumental in forging relationships with universities throughout the world and building exchange programs between Ferris faculty and those in Belize, Columbia, and the Asian and African continents. Dr. Ewigleben grew up in Michigan, and worked as a machine operator in Lansing to pay for his education. He began his career as a mathematics and chemistry teacher in Croswell, Michigan. He later served as a principal and superintendent. His move to higher education came in 1960 when he became assistant director of Purdue University's regional campus in Indianapolis. He would go on to serve as vice president at Humboldt State University and as president of the College of San Mateo, which at the time was the largest community college in California.
Dr. Ewigleben has all three of his degrees from MSU: a bachelor's in biology (1952), a master's in educational administration (1956), and a Ph.D. in educational administration (1969).