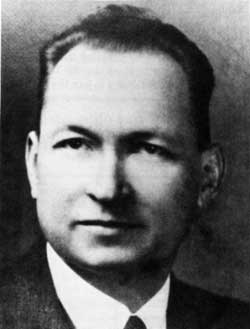 Merle S. Ward arrived in 1936 and set a record for tenure up until that time, second only to W.N. Ferris himself, holding on to command of the college for 10 years. He was highly educated, holding two bachelor's degrees, one from Indiana University which for a long time billed itself as the mother of college presidents. He also had a master's degree and a Ph.D. degree from Columbia University. He set in motion plans for trades' programs in refrigeration, electrical appliance repair, drafting, retail store management, and watch and clock repairing. He established a library with a qualified librarian, raising the acquisition list from 3,000 to 13,000 volumes. He was an excellent speaker, making a good impression on his audiences, and like Mr. Ferris, made numerous public speeches. He organized alumni clubs and made the first effort in the school's history to gather alumni at spots off campus. Even the Ferris Cooperative Association had not attempted to organize alumni off-campus activities.
World War II was much more devastating to the Institute than was World War I. In 1944, enrollment had dropped to 48 students. A dozen faculty members, including the president, remained to teach them. To raise money, the school sold its football and band uniforms. This was the worst year. However, by the time Ward left the presidency, things were slightly on the upswing.
Ward left in April of 1946. In his resignation letter he said that he felt an obligation to remain at Ferris during the critical years of austerity, but now that it was assured that the college would not go under, he felt he could resign. He went to Valley City, North Dakota, as superintendent of schools.