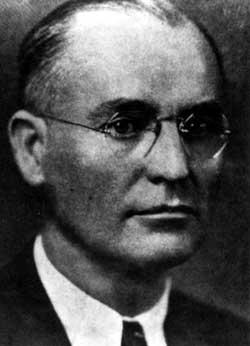 Ernest E. Brown resigned his post as president of Southwestern Teachers College in Weatherford, Okla. to accept the post at Ferris Institute on Nov. 10, 1932. Brown had an enviable record as an educator. He taught at country schools, city schools, high schools and colleges, and he had been president of the Southwestern Teachers College since 1927. He had been superintendent of schools in Oklahoma and chief high school inspector for the state.
Arriving at Ferris, Brown had to cope with the debt-ridden school as best he could. On April 13, 1933, he reported to the trustees that at the end of the term on May 20 there would be a debt of $8,000 which the school could not pay. He recommended that the trustees divide up the deposit in the bank among the teachers and the creditors so that each would get something. He also suggested that the next year the school retain three-fourths of all tuition collections up to $30,000 to pay directly to the teachers without it going into the incorporators' coffers.
Brown bucked the system and the school's indebtedness for three years. In February, 1936, he was named president of Northwestern State Teachers College at Alva, Okla. During his three years at Ferris he did increase enrollment and morale. At the end of his tenure, enrollment had risen about 50 percent, but still was 30 percent below previous highs.