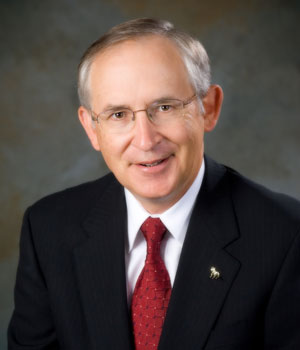 Dr. David L. Eisler has served as president of Ferris State University since July 2003. On campus, Dr. Eisler has worked with faculty, staff and students to develop and implement a vision that focuses Ferris State University as a career-centered university. Under his leadership the University has embarked on an ambitious program of curricular innovation, technology integration, classroom renovation, cooperative programs with community colleges, and providing opportunity to students who may not otherwise attended college. During this period Ferris State University has enjoyed record enrollments.
President Eisler speaks widely on educational issues, the growing crisis of student debt, student engagement and economic development through higher education partnerships. As an academic leader, President Eisler believes strongly in the value of excellence in undergraduate education. He is committed to ensuring the integrity of the college experience based upon an education that develops mature communication and quantitative skills, and a knowledge core with both breadth and depth. He believes the higher education experience should prepare students for successful careers, create a pattern of intellectual rigor and provide the foundation for lifelong learning.
In partnership with the American Association of State College and Universities and the New York Times, Dr. Eisler helped create the American Democracy Project. Nationally he serves AASCU as a member of the Board of Directors. Dr. Eisler is actively engaged in issues of higher education and economic development, serving on the boards of Presidents Council for State Universities of Michigan, Talent 2025 and the Midwestern Higher Education Compact. Committed to volunteer involvement, he is past Chair for the Board of the Michigan Nonprofit Association, and serves on the Michigan Research Council. As an arts advocate, he serves on the board of the Grand Rapids Symphony and is past chair of the University of Michigan School of Music, Theatre and Dance alumni board.
In 2013 Dr. Eisler was selected as the Newsmaker of the Year in Education by the Grand Rapids Business Journal and Ferris State University was chosen for the uncommon Greatness Award by the Center for Community Leadership.
President Eisler earned bachelor and doctoral degrees in Clarinet Performance from the University of Michigan and his master's degree from Yale University. In 2007 he was inducted into the University of Michigan School of Music Theatre and Dance's Hall of Fame.