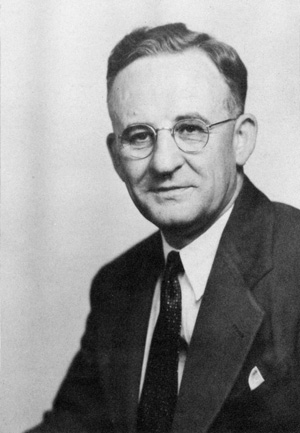 Byron Brophy, president of Ferris from 1946-52, was a native of Nova Scotia and had worked as an engineer in India and Australia. He, too, had some work at Indiana University and had spent nine years in public school administration in Indiana. Sometime during his engineering years in India he had lost part of a leg; he later wore an artificial one but very few people were aware of it.
Most significant of all, he had served as superintendent of Indian Education in Flandreau, S. Dakota, where he directed a fully accredited senior high school specializing in training for the trades. He had also served as a director of the National Youth Administration (NYA) where he was assigned to develop training programs for critical war industries, and he served in the War Assets Administration where he was involved in a program designed to dispose of surplus war property as it was adaptable to the needs of education in the nation.
Those who worked closely with Brophy were impressed by his "I care" attitude about the Institute and felt that whatever he did to save money for the Institute was in the best interest of the school. Brophy's genuine interest in the school led him to continue looking for a buyer for it, following the pattern begun by the trustees under President Ward. Under Brophy's leadership, the school was free of debt but Brophy feared that a depression or an enrollment slump would set it back again.
Brophy orchestrated the transfer of ownership of the Ferris Institute to the State of Michigan. Governor G. Mennen Williams signed the Smith-VanderWerp Bill in his Lansing office on May 18, 1949. Public Act 114, of the Public Laws of Michigan 1949, provided that on July 1, 1950, one of the oldest colleges in Michigan would become the newest state college. The legislative act mandated that Ferris be operated and maintained in accordance with curricula established through the years.
Brophy was also president on the tragic historic evening of Feb. 21, 1950, when fire struck, virtually destroying the Institute. The fire was a surprise even though many thought of Old Main as a fire trap. The stress of the fire along with personal problems and Parkinson's disease played havoc with Brophy's health and he resigned in 1952. He was named President Emeritus in 1954.
In recognition of his achievements in spearheading the transfer of the Institute to the state, Brophy was honored by having a dormitory named for him shortly before he died in 1962. The college also conferred on him an honorary degree.