Thank you for your interest in promoting Ferris State University by using its logos and graphics, provided for download within the instructions below.
The files provided here are for use only by university staff and designees in digital and print applications that do not require a license. Imprint and other third-party vendors must obtain Ferris State University trademarks through the artwork pack provided by Affinity Licensing agency after completing an application for licensing. Marks provided through Affinity Licensing contain required trademark registration symbols not included in the files provided below.
Blank space equal to or greater than the height of the "F" in the Ferris wordmark must be left around all Ferris logos and graphics that are implemented with other content, except when they are presented on top of a background photograph or texture. Please allow adequate contrast for readability when overlaying university logos or graphics onto such backgrounds.
The files offered for download here may not be modified or overlaid with other content. Please contact Christa Bull ([email protected]) or Nate Clark ([email protected]) for assistance in using these graphics appropriately.
Primary Logos

The updated primary logo for Ferris State University is the university wordmark without the Box Flame or any other graphic. Our goal is to strengthen brand awareness by limiting the overall number of variations in the logo's appearance in different applications.
Alignment: The logo may be presented as a centered and stacked ("stacked") or one-line ("horizontal") logo. Left alignment of the stacked logo is no longer permitted, to reduce the overall number of alignment variations and strengthen brand recognition.
Color: The wordmark may be reproduced in the colors black, white or gray to create appropriate contrast with backgrounds but reduce the overall number of color variations to strengthen brand recognition. All of these color variations are provided within the download links below. Additional color variations, including production of the logo in crimson and gold, are not permitted. Users who want to introduce color with the logo are encouraged to use one of the logo lockup options below.
Stacked Wordmark
The stacked version of the wordmark must always be center-aligned. Updated brand guidelines alter the spacing between top and bottom lines, so earlier versions of the center-stacked wordmark should be replaced with the files provided for download here.

Horizontal Wordmark
The horizontal wordmark is unchanged from previous versions.

Logo Lockups
The Ferris wordmark can be locked up three ways: with the Ferris Forward tagline, the university's URL and the co-brand of a university unit. The uniformity of these lockups ensures consistency throughout the brand and among units of the university.
Ferris Forward
ferris.edu
Co-brand
Ferris provides co-brand lockups for permanent, funded units of the university, including academic colleges and departments, administrative offices, and divisions. Entities such as committees, programs and special initiatives should use the co-brand of their sponsoring university units, such as the academic college or department, administrative office or division. Co-brands for cross-unit initiatives are approved on a case-by-case basis.
Co-brand lockups are created upon request. Please contact Christa Bull at [email protected] and allow two to three days for co-brand creation.
Embroidery and Other Special Applications
Applications that do not allow effective reproduction of the lockup's gradient may use a block color transition as an alternative. This version of the lockup may only be used in production methods that don't allow reproduction of the gradient, such as some embroidery and ink imprinting processes.
Please have your vendor contact Christa Bull at [email protected] to obtain a block color lockup file only if your vendor indicates that reproduction of the standard gradient lockup is not possible in the necessary production format.
Bulldog Graphics
Ferris' Bulldog graphic is approved for use as a standalone graphic in recruitment, student-life and spirit promotions. It may be used directly above or beside only the horizontal or stacked wordmarks without lockups.
The Bulldog may not be used directly above or beside content other than the wordmark without lockups, with the exception of Athletics. If the Bulldog graphic will be used in a product or publication that features other content, such as initiative or unit names, it must occupy a separate space or plane within the design.
Variations: The Bulldog Logo is approved for use in full size or in the "Peeking Bulldog" crop.
Color: Always use the full-color Bulldog graphics unless a specific print or imprint application requires the number of colors to be limited. Imprint vendors may be instructed to omit a color from full-color files when they duplicate the background color of the imprint surface.
Full Bulldog Graphic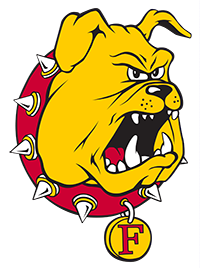 All of the above guidelines for use of the Bulldog graphic also apply to the Peeking Bulldog graphic.
Acceptable variations: The Peeking Bulldog Logo is approved for use in the color variations provided here. Use of any other color is prohibited.
Peeking Bulldog Graphic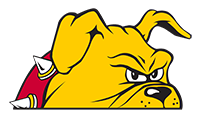 135 Seal Graphic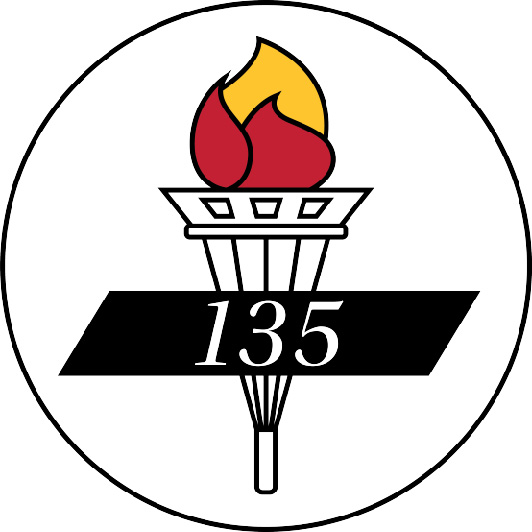 In honor of Ferris' 135th anniversary, a version of the university seal modernized with Ferris Forward campaign elements and marked with the numerals "135" is available until the end of Fall 2019, for use as a graphic in materials produced for anniversary celebrations and as a social media icon.
University Seal
Use of the University Seal graphic is restricted and must be approved in advance. Please contact Christa Bull at [email protected] for approval and file access.