Top 5 Advantages to Taking Classes Close to Home
So you're looking at places to get your bachelor's degree and can't decide whether to pack up and hit the road or stick close to home. Or maybe you're already building a life somewhere—you've got a family, friends, a job—and you want to go to school to advance your career.
No matter where you're at in life, taking classes close to home comes with a ton of advantages. Here are our top 5:
1. You'll save money
On-campus housing is expensive. When you add it all up, staying close to home can save you thousands of dollars in housing costs. Not only that, but taking advantage of our partnership with your local community college can save you tens of thousands of dollars when compared to the average cost of a bachelor's degree from a public university in Michigan.
Take our Grand Rapids Business Administration program for example: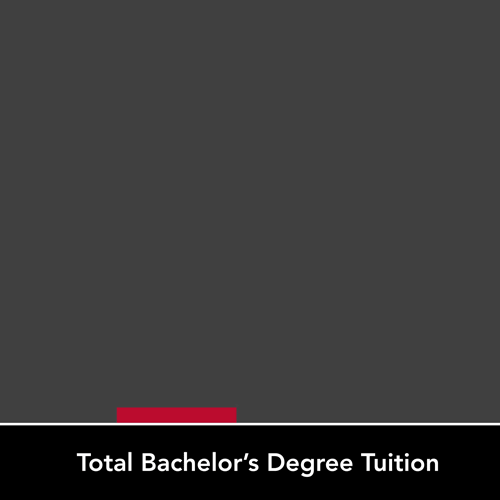 2. you already know your way around the city
Hate taking out Google Maps whenever you go someplace new? Do you have parking anxiety? Well, if you take classes close to home, you don't need to worry about navigating your way through an unknown city or trying to find the best place to park.
3. keep your current job while you get ready for the next step
You're probably looking to earn your degree because you want to progress in your career, right? So how does it make sense to quit your job just to go school? When you earn your degree at a Ferris location close to home, you can keep your current job while in school. Our flexible scheduling can help with that too!
4. more opportunities to build a network for your future
By taking classes close to home, you're giving yourself the chance to build relationships with important figures in your field who are local to the area you'll probably be working in after graduation. It's a lot easier to network in a community you're already familiar with, and it pays off down the line when you're looking for that next job or big promotion.
5. taking classes near home adds a whole new level of flexibility to your education
One of the best parts about taking classes close to home is how easily you can fit earning your degree into your daily routine. Have a full-time job? Take evening classes that you can hit on your commute home. If you're a full-time mom, you could pick up a class or two while the kids are at school. Or maybe you're a full-time student and you could schedule your classes so you can pick up an extra shift or two at your part-time job. Because you're so close to home, you can take classes and still live the life you want to!
For more information on how you can earn your bachelor's degree close to home, check out all of our Ferris Statewide locations across the state!