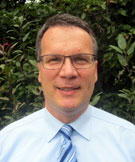 The Ferris State University College of Pharmacy is proud to announce that Dr. Curtis Smith, a Professor of Pharmacy Practice, was recently inducted as a 2016 Fellow of the American College of Clinical Pharmacy (ACCP) during the ACCP Annual Meeting in Hollywood, Florida. Dr. Smith was honored at a recognition dinner and induction ceremony, celebrating his achievements along with 34 new fellows from across the U.S. inducted this year.
"Induction as a Fellow of the ACCP acknowledges my sustained work within the organization as well as the pharmacy profession. I'm honored to be recognized in this manner." — Dr. Curtis Smith
The ACCP is a premier professional, academic and scientific society that provides leadership, education, advocacy, and resources that enable clinical pharmacists to achieve excellence in practice and research. ACCP provides a wide range of services to its membership, including an extensive peer networking forum, preparation for board certifications, and a professional journal, Pharmacotherapy: The Journal of Human Pharmacology and Drug Therapy. ACCP's purpose is to advance human health and champion the advancement of clinical pharmacy. Becoming a Fellow of ACCP is the highest award that ACCP can bestow upon its members, with fewer than three percent of the 15,000 ACCP members being awarded this designation during their careers.
In the state of Michigan, there are only 21 pharmacists with this distinction. According to ACCP, "Fellowship in the American College of Clinical Pharmacy recognizes excellence in the practice and science of clinical pharmacy. Fellowship is awarded to individuals who have made sustained contributions to the College and who have demonstrated exceptional performance in clinical pharmacy practice and/or research."
In order to be nominated for Fellow status, candidates undergo a comprehensive evaluation of their service to the College and their practice and research accomplishments. Dr. Smith has been a member of ACCP for 27 years. His extensive qualifications include 60 presentations at ACCP meetings, service on multiple ACCP task forces and committees, as well as a reviewer for various ACCP publications. He has authored over 40 publications and 25 abstracts during his career, while maintaining an active clinical pharmacy practice at Sparrow Hospital in Lansing, Michigan. He is also a board-certified pharmacotherapy specialist.
Dr. Smith has truly distinguished himself as a member of the FSU College of Pharmacy faculty, and continues to achieve excellence in teaching and scholarship while educating the future pharmacy and community leaders of tomorrow.