Rodney Larson, PhD., R.Ph.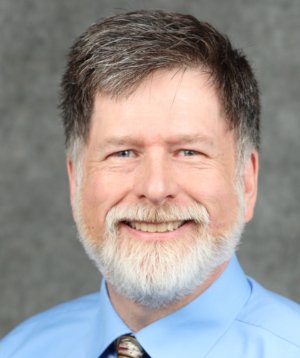 Assistant Dean of Academics & Practice
Professor
Dean's Office
Phone: (231) 250-7675
Email: [email protected]

Education
PhD, University of Minnesota, Social and Behavioral Pharmacy, Ethics
BS, Ferris State University, Pharmacy
Biography
Dr. Larson earned his BS in Pharmacy from Ferris State University in 1988 and his Ph.D. in Social and Behavioral Pharmacy from the University of Minnesota in 1994. He spent the next six years as an Assistant Professor of Administrative Sciences at Idaho State University in Pocatello, Idaho. Two major accomplishments during this time were his being the founding Director of the Institute for the Advancement of Pharmaceutical Care and a co-recipient of the American Association of Colleges of Pharmacy's 1997 Rufus A. Lyman Award.

In 2000, Dr. Larson returned to Ferris State University as its Assistant Dean of Admissions and Student Academic Affairs. For the next seven years he was integrally involved in the transition from the BS to the all Pharm.D. program, a splitting of the program into three primary campus locations, a 25% increase in class size, a creation of a joint Pharm.D./MBA program, an expanded pre-Pharmacy and Pharmacy Honors program, and a more than tripling of the number of applicants for the professional program.

In 2007, Dr. Larson left Ferris to become the Founding Dean of the Husson College School of Pharmacy, located in Bangor, Maine. Here he laid the foundation for the school, hiring all the faculty and staff necessary to get a new program off the ground and working intimately with the accrediting agencies to ensure the program was successful. He led the program through full accreditation and five graduating classes before coming back to Ferris as the College of Pharmacy's first Assistant Dean of Academics and Practice in 2018.

Publications and Intellectual Contributions
Journal Article
Sahr, M., Kelsh, S., Ottney, A., Young, M., Larson, R., Sohn, M. (2020). "Pharmacy Students' Perceptions of Electronic Nicotine Delivery Systems as Compared to Those of Other Health Care Students," American Journal of Pharmaceutical Education. 84 (7). https://www.ajpe.org/content/84/7/ajpe7690
Presentations
Poster
Sahr, M. (Author), Ottney, A. (Author & Presenter), Kelsh, S. (Author), Young, M. (Author), Larson, R. (Author), Muratovic, V. (Author), Sohn, M. (Author), American Pharmacists Association Annual Meeting, "Pharmacy Students' Perceptions of Electronic Cigarettes Compared to Other Health Professional Students," American Pharmacists Association, Seattle, Washington, (March 23, 2019).