Greetings, Alumni: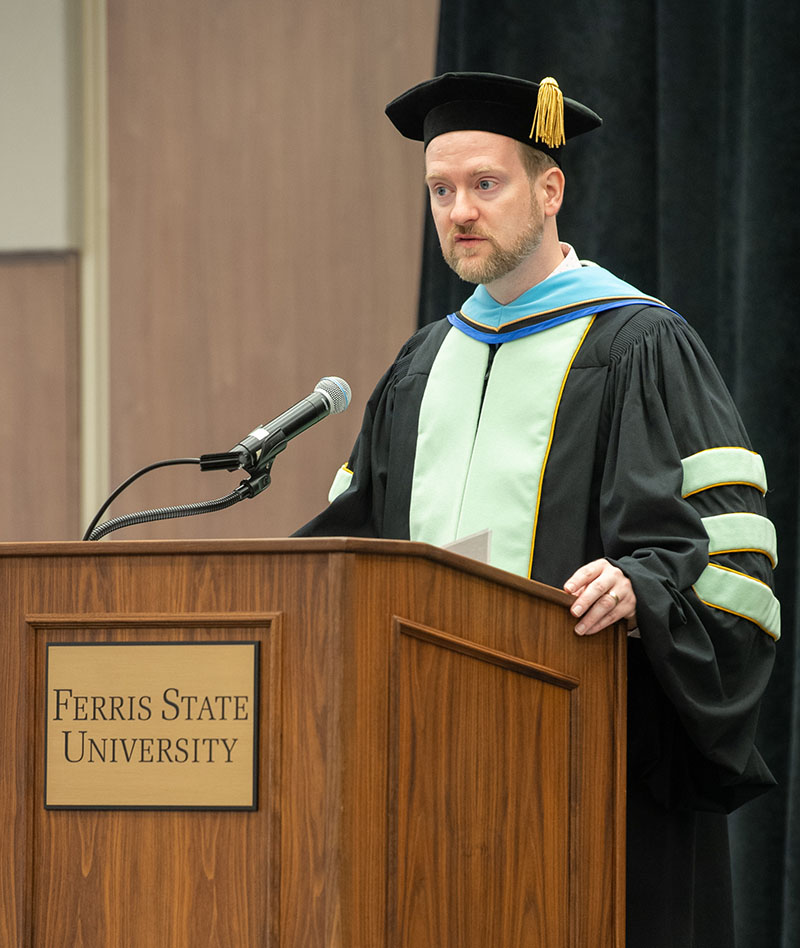 Dean Daniel Taylor at the 2022 Hooding Ceremony

What a pleasure it is to ring in 2023 at Michigan College of Optometry at Ferris State University! Our students are in the midst of the Spring Semester, studying hard, seeing patients, and generally becoming excellent future optometrists.
As we plan for a new year, we see many opportunities and challenges. It's an exciting time to be at MCO. The FSU Department of Academic Affairs recently awarded MCO $100,000 of funds to be used for equipment updates. This investment in our program will ensure that MCO remains at the forefront of the technological crest. MCO's technology committee is currently formulating a plan to make the best use of these needed funds.
Our admissions efforts continue apace for the class of 2027. MCO's Director of Recruitment, Dr. Jim Miller, and out Health Colleges Administrative Specialist, Mrs. Amy Parks, have been working diligently along with the MCO Admissions Committee to attract highly-qualified applicants. I'm pleased to say we expect to have another full class in August, with matriculants who meet the high academic standards of MCO.
We have had some turnover in the Dean's Office. After a year of outstanding service, Dr. Lillian Kalaczinski completed her one-year term as interim Associate Dean for Academic and Student Affairs. During this time, she was exceptionally productive; among her accomplishment, she initiated substantial policy changes, helped MCO prepare for the ACOE site visit, and developed the nascent elements of a comprehensive schedule for faculty, staff, and student training on topics like occupational health and diversity, equity, inclusion, and belonging. Dr. Kalaczinski is replaced by Dr. Brooke Moore, late of the Department of Community College Leadership at FSU. Dr. Moore brings a history of accomplishment in graduate-level administration and tremendous initiative and drive. We are happy to welcome her to MCO as Acting Associate Dean.
After a nationwide search led by a university search committee of FSU community members from many different departments and colleges, including MCO, the FSU Provost and Vice President of Academic Affairs, Dr. Bobby Fleischman, announced on April 17 that I had been selected as the next Dean of MCO. My first day was April 17. I'm excited to act as a steward of this amazing institution, to maintain and advance our actions towards fulfilling our mission. Special thanks to Dr. Emily Coles who represented the alumni on this important committee
The MCO Strategic Planning committee has begun inquiries into the development of a new five-year strategic plan for the college. This strategy will enable MCO to move into the future in concert with the university and its new president, Dr. Bill Pink. The committee has been tasked to complete its preliminary work by July 1, at which point I will begin working with the committee to develop the final plan. As the planning process moves forward, all college stakeholders, including alumni, will be included in the process. It's an exciting time!
Finally, please watch your phones and emails for information about exciting CE opportunities and alumni events coming in the near future!
It is a pleasure to lead and represent the Michigan College of Optometry.
Regards,
Daniel A. Taylor, OD, EdD