Students from around the world come to Ferris State University to study unique, career-focused programs. International applicants can learn more here and contact International Admissions for assistance.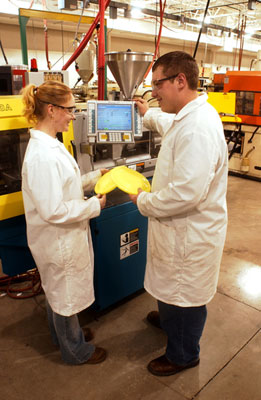 The Ferris State University Bachelor of Science in Plastics Engineering Technology is one of the largest and most respected undergraduate programs in the United States. This innovative program provides students with a background that includes topics such as plastics processing, polymer material testing and properties, and product development. Classes emphasize hands-on learning, using the same type of equipment that is currently used in industry. An exceptional 80 percent of the enrolling students receive their degree.
Admission requirements: GPA 2.75
ACT/SAT is not required but encouraged for course placement and scholarship eligibility.
Course pathway: In their first two years, students will complete the Plastics and Polymer Engineering Technology associate degree. Upon completion with a 2.5 GPA, students move into the final two years of the bachelor program.
Internship: In line with Ferris State University's dedication to hands-on learning, this program includes two internships as part of the course curriculum. PPET 193 and PLTS 393, taken during the summer semester of the first and third year, develop students' operational and supervisory skills. Internships (often paid) allow graduates of this program to hit the ground running with professional experience, references, and connections.
Careers/Salary: The Plastics Engineering Technology program has a 100% job placement rate with excellent annual salaries. High profile companies hiring Ferris graduates include General Motors, Delphi Technologies, Goodyear Tires, and more. Graduates usually start in engineering positions such as process, product or project engineer, quality control engineer or technical sales representative. Many graduates have attained management positions throughout the plastics industry. Graduates should make approximately $65,000 per year at graduation, and with ten years' experience can make $100,000 per year or more.
How to Apply:
Complete the online application (including the $30 USD application fee):

https://ferris.my.site.com/apply/TX_CommunitiesSelfReg
Mail official high school transcripts
Mail official bank statement that shows you have enough funds to study in the US ($

34

,

6

00

)
Report your English score to Ferris using the university code 1222 (TOEFL 61/IELTS 5.5)

OR

join the Intensive English Program before starting your academic program
Send a copy of passport
Mail all required documents to:
Ferris State University
Office of International Education
1301 S. State Street IRC 134
Big Rapids, MI 49307 USA
Scholarships: International and domestic students are awarded scholarships based on academic eligibility. First-time students can receive between $1,500 and $12,630 per year based on grade point average and test scores (ACT, SAT). Transfer students can receive between $2,500 and $5,500 based on grade point average.
English Language: The English Proficiency Policies at Ferris State University offers conditional acceptance to ISI and all academic programs for students who need to first fulfill their language requirement.
Contact the Office of International Education for help with an international student application. Submit a request for more information or chat live with the Ferris admission team.