At Ferris you will find several organizations whose goal is to gather students of diverse background in order to assist them in all aspects of their lives on campus, to promote events, to participate in volunteer activities, etc.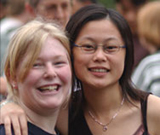 A complete list of the Registered Student Organizations (RSOs) is available on Bulldog Connect. You can select the RSOs by areas of interest.
Below you will find information on multicultural organizations that cater to students of diverse, ethnic backgrounds. Please note that most organizations are open to all students interested in their activities and issues. For more information you can contact the students or their advisors.
International Student Organization
Rankin 175, Box 097, 805 Campus Drive
Big Rapids, MI 49307-2226
Phone: (231) 591-2824
President: Ji Hyeon Baik
Advisor: Lisa vonReichbauer

Both the Asian Student Organization (ASO) and the Hispanic Student Organization (HSO) can be found on Bulldog Connect.