Pharmacy Forward Receives Lead Gift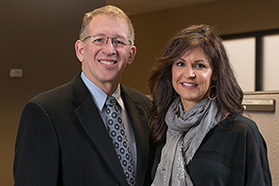 On February 23, Ferris State University announced Phil and Jocelyn Hagerman's lead gift of $5 million dollars for the Pharmacy Forward Campaign. The gift supports scholarships, renovations for the College of Pharmacy building and a new endowed Chair for Informatics.
Phil Hagerman (P'75) is chair and chief executive officer of Diplomat Pharmacy, Inc., based in Flint, Mich. Besides Phil, the Hagerman family boasts three generations of Ferris College of Pharmacy graduates, including Phil's father, a sister and Phil's daughter Jennifer.
The Hagerman's gift is the largest outright gift ever received in the history of Ferris State University. In recognition of their extraordinary support, the College of Pharmacy building is being renamed the "Hagerman Pharmacy Building."
Read more about the Hagerman gift.


The Pharmacy Forward Campaign
The College of Pharmacy at Ferris State University has gone public with the $9.4 million dollar Pharmacy Forward Campaign. The campaign focuses on increasing support for student scholarships, building improvements and faculty development. A lead gift of $5 million dollars was received in December 2014 from Phil and Joycelyn Hagerman. The campaign focuses on three major goals: scholarship support, building renovations and faculty development.
Student Scholarship Support
Currently only 25% of students enrolled at the College of Pharmacy benefit from scholarships. With the rising cost of a pharmacy doctoral degree, students are often forced to take out significant loans, resulting in a larger than average debt load upon graduation. Increasing scholarship support will assist pharmacy students with focusing on their studies instead of how to pay their tuition bill.
Building Renovations
Today's pharmacy practice models demand learning environments and simulation labs where students are exposed to up-to-date techniques, technology and equipment. The pharmacy building in Big Rapids, built in 1972, is in critical need of modernization, replacement of aging equipment and updated technology in order to keep our graduates current in a competitive market.
Faculty Recruitment and Retention
Recruiting and retaining the very best pharmacy faculty not only hinges on excellent facilities and programing but also includes opportunities for professional enrichment, growth and resources for innovative research.
Additional Links