Pharmacy Forward Receives Lead Gift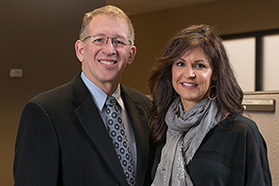 On February 23, Ferris State University announced Phil and Jocelyn Hagerman's lead gift of $5 million dollars for the Pharmacy Forward Campaign. The gift supports scholarships, renovations for the College of Pharmacy building and a new endowed Chair for Informatics.
Phil Hagerman (P'75) is chair and chief executive officer of Diplomat Pharmacy, Inc., based in Flint, Mich. Besides Phil, the Hagerman family boasts three generations of Ferris College of Pharmacy graduates, including Phil's father, a sister and Phil's daughter Jennifer.
The Hagerman's gift is the largest outright gift ever received in the history of Ferris State University. In recognition of their extraordinary support, the College of Pharmacy building is being renamed the "Hagerman Pharmacy Building."
Read More