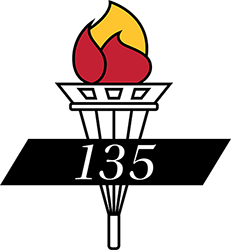 The Ferris State University community is celebrating the 135th anniversary of its founding by Woodbridge and Helen Gillespie Ferris in 1884. The University will continue to celebrate its 135th anniversary throughout the 2019-2020 school year with a variety of programs and promotions. Here are some of the highlights and important achievements Ferris has experienced during its long and illustrious history.
January 6, 1853
Woodbridge Nathan Ferris born near Spencer, Tioga County, New York.
September 7, 1853
Helen Frances Gillespie born in New Haven, New York.
December 23, 1874
W.N. Ferris and Helen Frances Gillespie married at her home in Fulton, New York.
September 1, 1884
W.N. Ferris and H.G. Ferris open the Big Rapids Industrial School in temporary quarters in the Vandersluis Block (present location of JC Penney Co.) in Big Rapids.
January, 1885
Big Rapids Industrial School moves to permanent home at the northwest corner of Michigan and Maple Streets in the Big Rapids Northern National Bank Building.
January, 1885
Name of Big Rapids Industrial School changed to Ferris Industrial School.
1893
Marius Preysz asks W.N. Ferris for training in pharmacy. His success in passing the state board examination encourages Mr. Ferris to establish a pharmacy department.
January, 1894
Ferris Industrial School moves into and dedicates its new building (Old Main) on the corner of Oak and Ives Streets.
January, 1894
Ferris Industrial School incorporated, with capital stock of $50,000.
1898
Name changed from Ferris Industrial School to Ferris Institute.
1900
W. N. Ferris sells capital stock in Ferris Institute to the public, keeping a controlling interest in his own hands.
1901
Pharmacy Annex Building constructed.
1901
Helen Gillespie Ferris retires as teacher and vice president of Ferris Institute.
1902
Bert Scott Travis becomes secretary and treasurer of Ferris Institute. Gerrit Masselink becomes Vice President of Ferris Institute.
January 1, 1913
W.N. Ferris inaugurated Governor of Michigan.
January 1, 1915
W.N. Ferris inaugurated Governor of Michigan for second term.
March 23, 1917
Helen Gillespie Ferris dies.
August 14, 1922
W.N. Ferris marries Mary Ethel McCloud of Indianapolis, Indiana.
November 7, 1922
W.N. Ferris elected United States Senator from Michigan.
1923
W.N. Ferris sells controlling interest in Ferris Institute to Gerrit Masselink and Bert Scott Travis. Ferris institute is reorganized as a non-profit school with non dividend bearing stock.
October 30, 1926
First homecoming, sponsored by Phi Sigma Chi fraternity.
March 23, 1928
W.N. Ferris dies in Washington, D.C. and is interred at Highland View Cemetery in Big Rapids.
March 24, 1928
Gerrit Masselink takes office as second president of Ferris Institute.
April 25, 1929
Gerrit Masselink dies. An advisory board of Grover C. Baker, E.M. Clark, K.G. Merrill and E.J. Parr chosen to manage the school. E.M. Clark, as chair of the board, becomes acting president.
September 4, 1929
Alpheus A. Worcester takes office as acting president.
October 19, 1929
Alumni building dedicated.
July 1, 1930
Wells D. White takes office as fourth president.
August 25, 1931
The Board of Incorporators, a group of 39 businessmen, purchase Ferris Institute from the old stockholders and select a Board of Trustees from their numbers to govern the school.
February 12, 1931
Pioneer sports writer Lester Williams gives the Ferris Institute athletic teams (notably the basketball team) the nickname "Bulldogs."
1931
Wells D. White leaves the presidency, an executive board consisting of E.M. Clark, E.J. Parr and K.G. Merrill chosen to manage the school. E.M. Clark, as chairman of the board, is acting president.
1931
B.S. Travis retires as secretary and treasurer of Ferris Institute, but continues teaching.
1932
Ernest E. Brown of Oklahoma takes office as fifth president.
February 14, 1936
Ernest E. Brown leaves the presidency to become president of Northwestern State Teachers College in Alva, Oklahoma.
February 17, 1936
Emanuel M. Clark appointed acting president.
July 13, 1936
Merle S. Ward takes office as seventh president.
February, 1943
Ferris Institute alumnus Colin Smith introduces a bill in the legislature for the state to purchase Ferris Institute. It passes both houses but is vetoed by Gov. Harry Kelly.
April, 1946
Merle S. Ward leaves the presidency after a misunderstanding with the Board of Trustees.
July 10, 1946
Byron J. Brophy takes office as president.
May 17, 1949
Governor G. Mennen Williams signs bill accepting Ferris Institute as a gift to the State of Michigan, which will take over its governance on July 1, 1950.
February 21, 1950
Old Main and Old Pharmacy buildings destroyed by fire, only the Alumni Building and some minor buildings left standing.
July 1, 1950
Ferris Institute becomes a state college.
February, 1952
Byron J. Brophy resigns as president because of ill health.
February, 1952
Karl G. Merrill named acting president.
September 8, 1952
Victor F. Spathelf takes office as 10th president.
July 1, 1963
Name changed from Ferris Institute to Ferris State College.
Fall, 1968
First Ferris undefeated football team (7-0-1). Bob Leach was the head coach.
December 15, 1970
Victor F. Spathelf retires as president.
December 16, 1970
John R. Smith takes office as acting president.
March 15, 1971
Robert L. Ewigleben takes office as 12th president.
July, 1983
Installation of Woodbridge N. Ferris statue begins.
1983-1984
Celebration of centennial of Ferris State College.
June 30,1984
Robert L. Ewigleben retires as president.
July 1, 1984
J. William Wenrich takes office as 13th president.
November, 1987
Name changed from Ferris State College to Ferris State University.
September 5, 1988
J. William Wenrich leaves the presidency.
September 6, 1988
Roy J. Tiede takes office as interim president.
July 31, 1989
Roy J. Tiede ends his term as interim president.
August 1, 1989
Helen Popovich takes office as 15th president.
July 31, 1994
Helen Popovich retires as president.
August 1, 1994
William A. Sederburg takes office as interim president.
August 1, 1995
William A. Sederburg officially appointed the 16th president.
March 1996
Ferris State University and Kendall College of Art and Design announce a four-year plan that will result in a merger by 2000-01. Kendall will retain its name and academic focus as it becomes an entity of FSU.
October 6, 1998
A small tornado hit the main campus at approximately 3:40 p.m. Seven injuries were reported, none serious. Dozens of windows were shattered, cars were pushed into each other, car windows were broken, signs and light poles were toppled, and dozens of trees were uprooted.
March 2001
Opening of the Ferris Library for Information, Technology and Education (FLITE).
May 2003
William A. Sederburg leaves office to accept position as president of Utah Valley State College.
May 2003
Scott Hill-Kennedy appointed as interim president.
July 2003
David L. Eisler takes office as the 18th president.
October 2010
Dedication of the Helen's Garden in the courtyard between the Alumni and Prakken Buildings.
June 2011
Dedication of the new Michigan College of Optometry Building.
April 2012
Opening of the new 3,300-square-foot, $1.3 million Jim Crow Museum on the lower floor of the FLITE Library.
April 2012
Bulldog Hockey competes at the NCAA Division I Frozen Four and finishes as the National Runner-Up.
June 2013
Dedication of the Woodbridge N. Ferris Building in Grand Rapids.
August 2013
Ferris and KCAD merge with the Urban Institute for Contemporary Arts.
August 2013
Ferris State's Bulldog voted best logo in Michigan in a contest conducted by the Detroit Free Press, beating out the iconic Old English 'D' of the Detroit Tigers.
February 2015
Dedication of the David L. Eisler Center.
February 2015
Phil and Jocelyn Hagerman and the Hagerman Foundation make a $5 million gift to the College of Pharmacy. The Pharmacy building is renamed the Hagerman Pharmacy Building.
September 2016
25th Anniversary of the Applied Technology Partnership with Grand Rapids CC.
August 2017
Dedication of North Hall, the first new residence hall in 50 years.
October 2017
Creation of the Meditation, Prayer and Reflection Room in the FLITE Library.
November 2017
Launch of "Now & Always – The Campaign for Ferris State University," the first comprehensive capital campaign in Ferris history.
March 2018
Bulldog Men's Basketball wins the 2018 NCAA Division II National Championship, the first team to win an intercollegiate national title in school history.
March 2018
Establishment of the LGBTQ+ Resource Center in the David L. Eisler Center.
November 2018
Ferris receives largest gift in its history – a $6.59 million bequest from the estate of the late Dewaine V. and Jana B. Robinson, of Flint.
December 2018
Bulldog Football finishes as the 2018 NCAA Division II National Runner-Up with a 15-1 record.
April 2019
Dedication of the new/renovated Swan Annex. The $30 million project benefits the University's Welding and Manufacturing programs.
June 2019
Dedication of the new Ken Janke Sr. Golf Learning Center on the ground of Katke Golf Course.
2010-2019
Creation of more than 20 new academic programs.