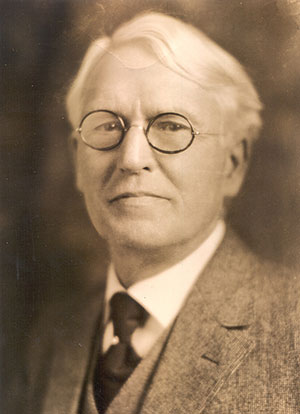 On January 6, 1853, Woodbridge Nathan Ferris was born near Spencer, Tioga County, New York. After years as an educator and school administrator, Mr. Ferris, along with his wife, Helen Gillespie Ferris, founded the institution in 1884 as The Big Rapids Industrial School. It began in temporary quarters in the Vandersluis Block (present location of J. C. Penny Co.) of Big Rapids. In January 1885, Mr. Ferris changed the name of the Big Rapids Industrial School to the Ferris Industrial School. In 1894 with steady enrollment growth the Ferris Industrial School moved into and dedicated its new building (Old Main) on the corner of Oak and Ives Streets.
After the school lost money in multiple bank collapses, Mr. Ferris founded and became the first president of the Big Rapids Savings Bank in 1902. In 1898 the name of the school was changed from the Ferris Industrial School to the Ferris Institute.
On January 1, 1915 Mr. Ferris was inaugurated to his first of two terms as governor of the State of Michigan. On November 7, 1922, Mr. Ferris was elected United States Senator from Michigan. He would remain president of the Ferris Institute throughout his life in business and politics until his death on March 23, 1928. His vision of education for all Americans, all of the time still guides the institution today.