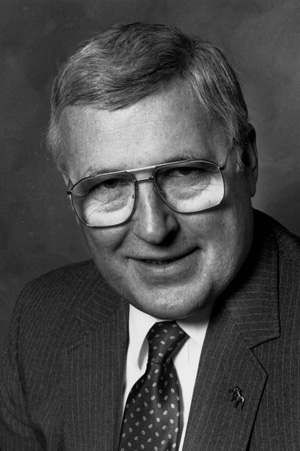 Roy Tiede joined Ferris in 1981 as vice president for all business and financial operations. He oversaw the areas of administrative services and risk management, including Ewigleben Ice Arena, Holiday Inn Conference Center, Katke Golf Course, Lundberg Bookstore, purchasing, and Racquet and Fitness Club; controller and accounting; financial analysis; human resource development; information services and telecommunications, including the Computer Center and telephone operations; investments; physical plant; and public safety.
Following Ferris' reorganization in 1995, he was also responsible for developing an integrated budget system and overseeing intercollegiate athletics, residential life and dining services.
Prior to joining FSU, Tiede served five years as associate commissioner for administration for the South Dakota Board of Regents. He was formerly vice president for business and finance and controller for the University of South Dakota from 1968-76.
He also worked as account manager for Wabash Magnetics, cost and financial analyst for Ford Motor Company and public auditor for Arthur Andersen and Company.
Tiede received his baccalaureate and master's degrees in business administration from the University of South Dakota. He is the recipient of the USD School of Business Achievement Award. In 1992 he was named to the board of advisors of the Education Communications Consortia, Inc.
Active in the community, Tiede was a member of the Big Rapids Rotary Club, serving as president in 1984-85. He was also a member of the governing board of the United Church of Christ in Big Rapids from 1985-93, and chaired its finance committee from 1983-93.
Roy Tiede served as interim president from September 1988 to July 1989.