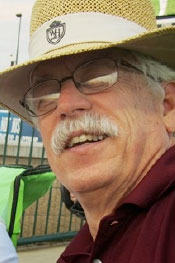 Dale Hobart came to Ferris in 1973 to create and teach the courses for the second year of the Legal Assistant program (now called Legal Studies). During that time he was one of the founders of AAfPE (The American Association for Paralegal Educators), became the first treasurer of the organization and a frequent presenter at the annual AAfPE conferences. He also worked with the American Bar Association to create accreditation standards for Legal Assistant programs and became a program accreditation evaluator.
After teaching in that program for twelve years, he was enticed into becoming part of the Office of Academic Computing. While there, he co-authored 12 computer training texts, helped establish the first local area network (although there is some dispute with the College of Engineering Technology about who was first), and in 1992 created the Ferris web site – on a PC under his desk.
He eventually became Director of the Office of Academic Computing. While he was serving in that capacity, Media Distribution, Media Production and Academic Computing were merged, and he became the manager of that new unit. That combined unit reported to the Library and was to be moved into FLITE, so he became part of the FLITE project leadership team. That seven year planning and construction project involved site visits to other libraries, architect selection, technology selection and tour guide.
After the completion of the FLITE building, he returned to the classroom into the Computer Information Systems program in the College of Business. While there, he taught programming, database management, HTML (web technology) and networking. After a few years in the classroom, he retired.
However, he failed at retirement and was brought back part-time to help implement a new Content Management System for the Ferris web site. He is now working with the web team to train new users and implementing a new design for the Ferris website.