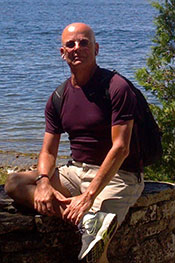 Doug Haneline became a member of the Ferris State University Emeriti Association when he retired as Professor of English in 2013. He serves on the Emeriti Board as Newsletter Editor.
Doug earned his Ph.D. in English from Ohio State University in 1978. He taught undergraduate literature and composition courses at four universities in a 42–year career, the last 29 at Ferris. Doug was also Chair of Academic Program Review, President of the Academic Senate, twice interim department head of English, Literature, and World Languages, and Assistant Vice President for Academic Affairs during his Ferris career.
Beyond the University, for 12 years Doug was a peer reviewer for the Higher Learning Commission, 2012-­13 President of the American Medical Writers Association, a 4–year member of the Michigan Humanities Council Board, and a co-­founder and President of Artworks, the community arts organization in Big Rapids. He served on the editorial boards of two academic journals.
Doug is a Fellow of the American Medical Writers Association, and he received both the Academic Excellence Award and Distinguished Service Award from the Provost.
Doug's late wife Ellen was Dean of Health Professions at the time of her death in 2010. Their two adult daughters live in Big Rapids and Grand Rapids.