ALERT: CORONAVIRUS MAY CAUSE INFORMATION TO BE INACCURATE
For more information regarding COVID-19 visit: https://www.ferris.edu/HTMLS/news/coronavirus/homepage.htm

The University Center is a place for students to socialize, study and relax. There are many events held in the ballrooms and conference rooms, many of which can be seen on flyers around campus. Student Organizations choose the University Center as a good place to hold meetings and events. See the Reservation Information below on more information on how to reserve a room. Any other questions can be directed to our reservation handbook. This handbook has all of the rules for reserving a room in one convenient place. Off-campus organizations and groups can use the second link after reading the handbook to reserve a room.
---
Read the reservation guide before reserving a room
Reservation Information Handbook
Reservation Steps
The process to schedule events using the on-line reservation system is:

Log into your MyFSU.

Click on the "Student" tab.

Under "Student Quick Links" Click "[email protected]"

Scroll down to the "UCB" section, and click on "University Center & IRC Connector Reservations".

To Make a Reservation Once in EMS

Click on "Create a Reservation" on the right-hand side of the screen.

Then, Click on "book now" to the right of "University Center & IRC Table Reservations.

At this point, you just need to put in the information of your event.

Submit the details and services needed for the room, and we will look over the request, and if approved, send you a confirmation.

To file a request for RSO academic space in Star Building on Monday nights fill out this form:
RSO Academic Space Form

The process to schedule events using the on-line reservation system is:

Log into your MyFSU.

Under the MYFSU tab, scroll to the box titled: "Reserve a Room."

Double click on University Center Reservations.

You will then answer a few questions to create your account.

You are set to begin.

Viewing Room Sizes and Locations:

Locate the "Browse" tab.

Select "Browse Facilities."

Click on any room number in order to see room details, set up types, features, and availability.

Click on the room number at the bottom of the detail to see room location.

To Make a Reservation

Locate the "Reservations" tab.

Select "University Center Reservations."

Start the process of reserving your rooms.
---
Book a Free Study Room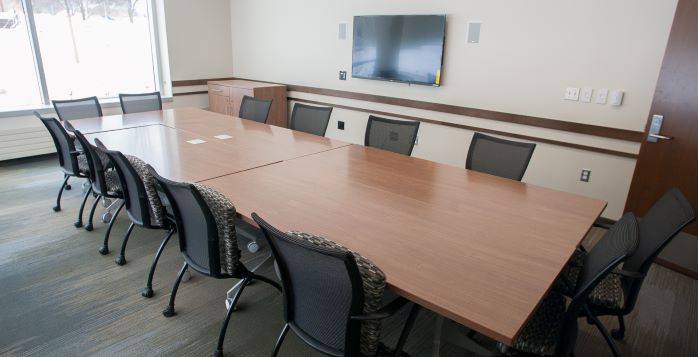 Study Rooms are available if conference rooms are not booked. They are checked out at the information desk on a first come first serve basis. A Student I.D. is required to checkout a study room. Any questions at all about the university or the University Center itself can be directed to the information desk and the Information Staff would be happy to assist. Reservations are not available for study rooms, if a room is needed for a future time please make a reservation as outlined above.
---
Information Desk:
(231) 591-5918