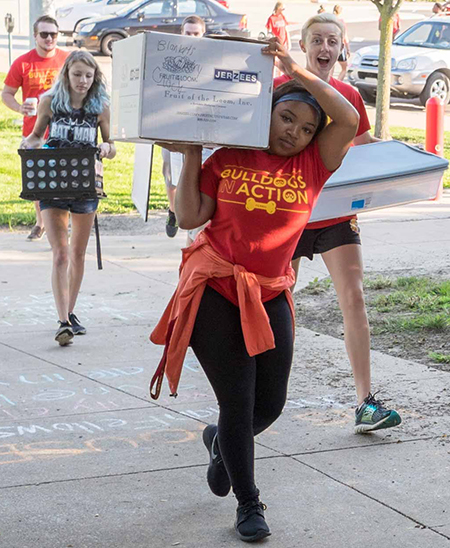 Click the link for video highlights from Ferris' first big move-in day.
A variety of vehicles converged on the Ferris State University campus on Friday, Aug. 26, as move-in day presented the first opportunity for all students to bring items into their residence halls across campus.
Incoming freshman Ben Potrykus was an early arrival at Merrill Hall, with his parents, having traveled five-and-a-half hours from Plymouth, Wis., the day before. Mrs. Michaele Potrykus said that their hometown was parallel with Big Rapids, around 30 miles west of Lake Michigan, and she was excited to make her third visit to Big Rapids, and drop off her son.
"I love this city," she said. "I could easily live here."
Ben was able to secure an internship during his high school years in Sheboygan County, Wis., and hopes to further his interest in Plastics, while pursuing a Bachelor of Science in Mechanical Engineering Technology degree.
"The University of Wisconsin-Stout was the other school I was considering," said Potrykus, who will room with a high school classmate, Alex Teteak. "I'm hoping to learn a lot about engineering, and will probably play intramural football, basketball and baseball."
The Potrykus family moved items into a third-floor room in Merrill Hall, and "Bulldogs in Action" participants were ready to assist in that process. Bulldogs in Action is a community-service activity that is sponsored by the Office of Housing and Residence Life and other campus departments to help students move into their residence hall rooms. Among those offering their time and ability was Avonte Bell, a linebacker on Ferris' football team, who is in his second year with the program. Bell also participated in Bulldogs in Action in 2015, and said that he enjoys taking part in such activities.
"It's fun to meet new people, and see new faces on campus," said Bell, a redshirt freshman for the Bulldogs. "I don't see it as a chore. It's an opportunity to help other people, and put a good face on the football program."
Housing and Residence Life assistant director Lisa Ortiz was busy throughout the day, traveling by golf cart to visit residence halls and information stations across campus. Ortiz said that there was collaboration from members of athletic teams, fraternities, sororities and registered student organizations to support Move-In Day. She appreciates all efforts made to ensure the success of their Bulldog Beginnings schedule.
"We get a lot of support, which is helpful, as Bulldog Beginnings is a full period of events and activities," Ortiz said. "Once things are settled, these students will become part of the Bulldog community."


PHOTO CAPTION: Ferris State University residence calls opened for their student residents on Friday, Aug. 26. The Bulldogs in Action program saw volunteer student groups offer assistance with the Move-In Day process.