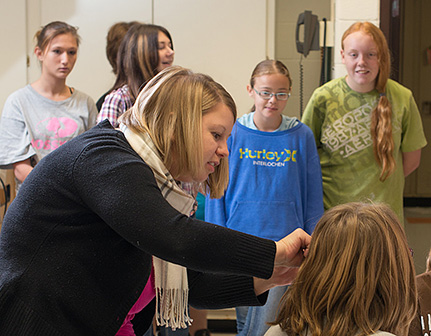 The Michigan College of Optometry at Ferris State University's Students in Need Eyecare program will deliver complimentary eye examinations and eyeglasses to children from Fremont and Hesperia elementary schools in late September.
Children will be examined based on referral from teachers, staff or parents. Of those nominated, approximately 50 will be selected based on lack of access to eye care. Those in the existing care of local providers will be excluded barring extenuating circumstances.
Dr. Sarah Hinkley, an associate professor from MCO and its chief of Vision Rehabilitation Services, noted that 100 percent of the children were cooperative and excited to be a part of this program in the previous two years.
"We helped so many children, some of them in a very profound way," Hinkley said. "This program could not exist without generous supporters like the Michigan College of Optometry, Ferris State University, the Fremont Lions Club, the Fremont Area Community Foundation, the Michigan Foundation for Vision Awareness and the Michigan Campus Compact."
Funding for SINE is subsidized through those grant programs. In addition to the eye examinations and glasses for the uninsured or ineligible children, the grant helped offset closing the entire University Eye Center to conduct the program.
While on campus, the students will have lunch and tour the Ferris campus.
Hinkley, an alumna of the Mesick school district where her dad is still a sixth-grade teacher, was contacted to see if it was possible to initiate a program to help students in need of eyecare. She also is hopeful that, in addition to the eyecare and educational value of the SINE program, the visit to Ferris could open the eyes of the young students to higher-education opportunities.
Check related links below: