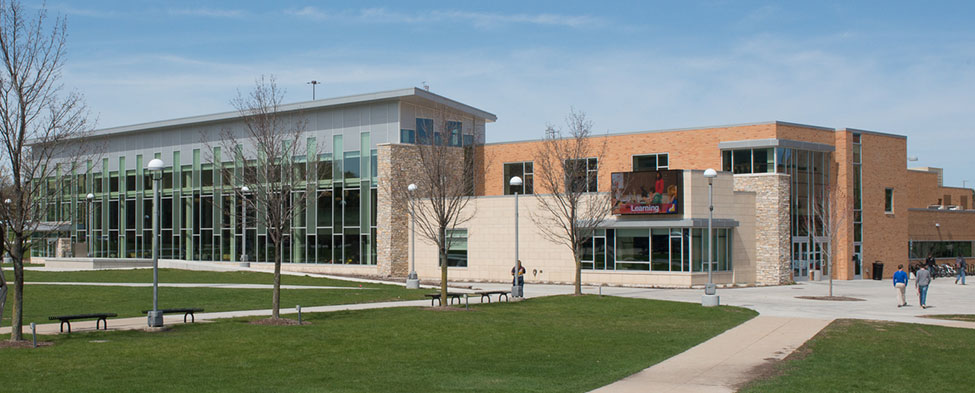 The new University Center is located in the heart of campus and features spaces for meetings, socializing, studying and relaxing. It also includes a variety of food, entertainment and retail venues. The renovated facility replaces the former Rankin Student Center. The University Center is available to host conferences, meetings, receptions and banquets. Faculty, staff and registered student organizations can schedule their events on-line through the MyFSU portal. For specific events, please contact Shana Beisiegel at 231-591-5917 or via email at [email protected]
The renovation project has added 500 new parking spaces that were built as part of the overall access to the building.
"It's been a dream of the campus for about 20 years and it became a priority when President (David) Eisler came to campus," said Mike Hughes, Associate Vice President for Physical Plant.
"The concept of the building is really to be like a living room for the campus – a place for students to hang out, a place for the students and the community to eat and meet," Hughes added.
The project included input from every segment of the university: faculty, staff, students and community members.
A highlight of the building is the unique dining area called the Quad Café, which includes an all-you-can-eat cafeteria-style section and a food court section with a diverse section of food options including, but not limited to, burgers, Asian food, Mexican food and frozen yogurt, all brought together in a 6,000-square-foot area.
"We want any visitor to campus to have a great taste in their mouth about Ferris," said Lori Helmer, Director of Dining Services.
Several open-floor cooking areas allow students to watch as their food is prepared. Plus, a new seating layout, which includes both family-style seating and small individual areas, will encourage student interactions and provide areas to study.
The finished building also includes several fireplaces. Above the main fireplace is repurposed limestone off of the Masselink residence halls and the clock is a replica of the original.
"It was repurposed to keep some of our history in the facility," said Mark Schuelke, Director of the University Center.
"This facility was set up to be a University Center, so that doesn't just mean Ferris. The facility is accessible to the greater Big Rapids community. For example, you have the dining area, the Barnes and Nobles bookstore and Starbucks," Schuelke noted.
Quick Links
Facility Rental Rates & Policies