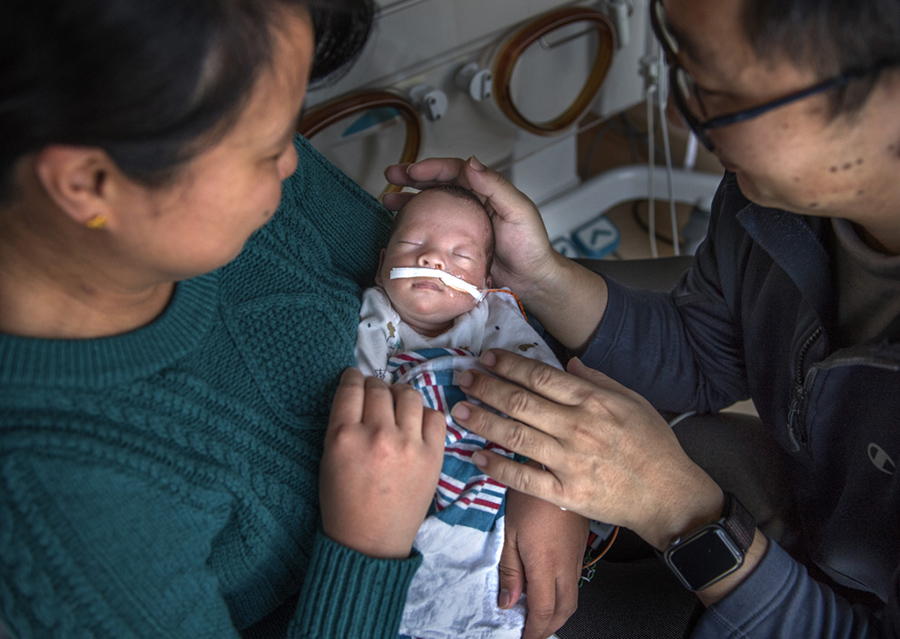 PHOTO CAPTIONS: (TOP) With two sons, 13-year-old Qinyao and 6-year-old Benjamin, Qian, pronounced Chee-Ann, and Zhen happily looked forward to the birth of their third baby boy. (BELOW) Nurse anesthetist Sarah Engels, CRNA, wrapped her arm around Qian Ding's shoulders and pulled her close. "You are my miracle," Engels said. (Photos by Chris Clark, Spectrum Health Beat)


By Sue Thoms
Spectrum Health Beat
Thirty-two weeks into her pregnancy, Qian Ding awoke from a strange and unsettling dream.
"It was not a very detailed dream. I couldn't remember it exactly. But I felt like I had no connection with the baby," she said. "It was very weird."
She looked down and saw her baby bump. With relief, she felt the baby move. Still, she was glad she had an appointment with her doctor that afternoon.
Qian had no idea that within hours, she and her baby would be fighting for their lives. It would take a team of medical professionals from two hospitals to mobilize a middle-of the-night effort to ensure her baby's survival—and that she would be alive to care for him and her other children.
"My life and my baby's life were saved by the whole team," Qian said, recovering in her room at Spectrum Health Butterworth Hospital. "I think all the events, the decisions, the actions were right to save me. Otherwise, I think I could not make it."
Her husband, Zhen Lee, hovered beside his wife, eager to fill in the details she could not recall and to express his gratitude. In his hand, he held pages filled with writing in Chinese: a timeline of events and the name of every person he wanted to thank.
The couple moved to the U.S. from Beijing in 2006 so Qian could pursue a PhD. They have lived in Big Rapids, Michigan, since 2014. Qian, pronounced Chee-Ann, is a professor in Ferris State University's College of Pharmacy,and Zhen is a chemical engineer.
With two sons, 13-year-old Qinyao and 6-year-old Benjamin, the couple happily looked forward to the birth of their third baby boy.
As with her other pregnancies, Qian had gestational diabetes, but it was well controlled through diet. She received care from Spectrum Health maternal fetal medicine specialists as well as her obstetrician, Kathryn Anason, MD, during her pregnancy.
She also had a non-stress test every two weeks to monitor the baby.
A quick delivery

On Oct. 1, 2018, the day she awoke from a bad dream, she went to Spectrum Health Big Rapids Hospital for her routine 4 p.m. appointment.
The test showed a low heart rate for the baby, in the 90s and even the 80s at times. Typically, an unborn child's heart beats 110 to 160 times per minute. The nurse, Melissa Chapman, RN, called in obstetrician Sharrell Gibson, MD. She performed an ultrasound and monitored Qian. In the next 10 minutes, the baby's heart rate dipped into the 70s.
The doctor called in a team to perform an emergency cesarean section. By acting quickly, she hoped they could prevent a stillbirth.
"We really felt we were right at that moment when something bad was in the midst of happening," she said. "But we had a chance to deliver this baby."
Within minutes, she pulled the baby from Qian's womb. He didn't cry or move. He had no breath, no heart rate. Pediatrician Adrienne Aschmetat, DO, immediately began to perform chest compressions and intubated the tiny, 3 pound infant.
"She resuscitated the baby until he was breathing and they had a heart rate," Dr. Sharrell Gibson said.
When the infant stabilized, a neonatal team transported him in an ambulance specially equipped for fragile newborns to Spectrum Health Helen DeVos Children's Hospital in Grand Rapids.
'Something was terribly wrong'
As she performed the C-section, Dr. Sharrell Gibson noticed Qian's uterus seemed swollen in a way that is usually not seen in a cesarean delivery, where the mother has not been in labor. She speculated the condition of the uterus was linked to the infant's distress before birth.
Stable after surgery, Qian went to the recovery room. About 40 minutes later, she began to bleed.
"She was actively hemorrhaging," Dr. Sharrell Gibson said. "We knew something was terribly wrong at this point."
Qian went back to the operating room, where surgeons performed a procedure to remove tissue from her uterus.
As the bleeding continued, the surgeons used a Bakri balloon, a rarely used device designed to control bleeding. They placed the balloon in the uterus and inflated it to apply pressure to the blood vessels.
"It's a huge life-saving device," Dr. Sharrell Gibson said. "It applies pressure on bleeding blood vessels, slowing active bleeding and potentially allowing time to get ahead on resuscitative measures, such as administering blood products, IV fluids and various medications."
By this point, the operating room had filled with medical professionals intent on saving Qian's life.
"Everyone really responded to the call for help," Dr. Sharrell Gibson said. "Anybody who walked in that room knew that life and death was at play."
The bleeding slowed, but it did not stop. Qian had lost about 3.5 liters of blood. A human body usually has 5 to 7 liters of blood. Qian, a petite, 5-foot tall woman, lost nearly her entire blood volume.
She received blood transfusions—15 units of whole blood and plasma. And she received medication to keep up her blood pressure and maintain blood flow to crucial organs.
Knowing Qian needed more help, Dr. Sharrell Gibson also consulted Butterworth Hospital in Grand Rapids, which has a level 1 trauma center. Handling the call was Charles Gibson, MD, an acute care surgeon.
They discussed the challenges Qian faced in a conference call with a number of specialists, including Marcos Cordoba Munoz, MD, a maternal fetal medicine specialist.
"When you lose that much blood that quickly, all your clotting factors and platelets go quickly," Dr. Charles Gibson explained.
Qian was in a condition known as the "lethal triad." She was cold. Her blood could not clot well. And acidic compounds were building up in her blood stream.
"It is incredibly hard to get people out of that triad to survival," Dr. Charles Gibson said. "She was probably getting to the point where we would be worried about (cardiac arrest) because she was so sick."
In addition to the blood transfusion, Qian needed platelets and clotting factor. The Big Rapids hospital did not have these products—they are generally stocked only at busy trauma centers.
Weather complications

The doctors determined Qian should be transferred to Butterworth Hospital. They contacted Spectrum Health Aero Med to see if the team could quickly transport her. But fog and rain had grounded the helicopters that night.
The Big Rapids hospital did not have an ambulance equipped to transport someone so critically ill. The doctors discussed sending an ambulance from Grand Rapids to pick up Qian. But that would be a three-hour drive roundtrip.
"I didn't know that she had three hours," Dr. Charles Gibson said.
To provide care more quickly, they decided to send an ambulance staffed with an Aero Med crew—Christopher Willoughby, MD, an emergency medicine physician, and Jessica Whitehead, RN.
The Butterworth blood bank quickly prepared the products Qian needed. Dr. Charles Gibson picked them up and hurried to the ambulance bay at Butterworth Hospital, where he delivered them to the Aero Med team.
As soon as the ambulance reached the hospital in Big Rapids, Dr. Willoughby and Whitehead went to the operating room.
"We immediately started administering the blood products," Dr. Willoughby said.
At 2 a.m., about 25 minutes after they arrived, the crew wheeled Qian down the hall to the ambulance, pausing briefly for her husband and son to say a few words. Zhen struggled to stay calm, knowing he still had to drive with his son to Grand Rapids.
"I told her to hang in there. I said we will be there soon," he said.
In the ambulance, Qian continued to receive the platelets and clotting factors, and her condition continued to improve.
"We were able to wean her off the (medication) that had been used to support her blood pressure," Dr. Willoughby said. "And we were able to wean her ventilator down to minimal vent settings."
"They were an ICU on wheels," Dr. Charles Gibson said. "They were able to do all the things I would do in an ICU."
Throughout the ordeal in Big Rapids, Dr. Sharrell Gibson had updated Qian's husband, Zhen, and their 13-year-old son as often as she could. She was struck by the support and compassion they showed, despite their fears and worries for Qian.
Zhen repeatedly told her: "Do your best. We trust. We trust." After his wife left for Grand Rapids, Zhen turned to Dr. Sharrell Gibson and said, "Now you get some rest. You've been here all night."
Strong name for a strong boy
By the time she arrived in Grand Rapids, Qian "looked a whole lot better," Dr. Charles Gibson said. "We kept her on a ventilator a little under 24 hours."
As she woke up and learned what had happened, Qian struggled to accept the fact that her son had already been born.
"I think I didn't want to believe it," she said. "I still wanted a natural delivery."
But Zhen assured her the baby was OK.
Once she was off the ventilator, Qian went to the Helen DeVos Children's Hospital NICU to visit her newborn son. She and Zhen talked about what name to give him.
"A nurse said, 'Your boy needs a strong name,'" Zhen said.
With that in mind, they named him William Zejun Lee. William for "strong-willed." And Zejun for "blessed by nature."
Strong and blessed, little William slept contentedly in his mother's arms.
Qian left the hospital four days after giving birth. Her rapid recovery astounded her caregivers.
"The fact that she walked out of the hospital in less than a week is nothing short of a miracle," Dr. Charles Gibson said. "She was very, very sick. The chance of her dying was pretty high."
And her survival reinforced for him the value of specialized medical care and the collaborative efforts of so many people—in Big Rapids and Grand Rapids—focused on what's best for the patient.
"It was really rewarding," he said. "This baby has a mom now. This father has a wife. Their other sons have a mom. This family is intact because we were able to figure out how to help her."
In the next weeks, William grew bigger and stronger in the NICU. By 6 weeks, he weighed nearly 5 pounds.
Five weeks after giving birth, Qian visited Dr. Anason for a checkup and stopped by the Big Rapids hospital's Family Birthing Center to see Dr. Sharrell Gibson.
Word spread, and soon a crowd of nurses in blue scrubs surrounded Qian and Zhen. They greeted them with tears and hugs. They marveled at photos of William. They delighted in seeing Qian, so strong and healthy, and recalled the harrowing night when they last saw her.
"I'm going to always keep you in my thoughts and prayers," Dr. Sharrell Gibson said.
Nurse anesthetist Sarah Engels, CRNA, wrapped her arm around Qian's shoulders and pulled her close.
"You are my miracle," she said. "I don't think I've ever had a miracle so obvious."
For Qian, reminders of her life-changing journey come every time she hears an Aero Med helicopter overhead or sees an ambulance pass by. She wonders about the person in need. She thinks about all the people who helped save her life.
"So blessed," she said. "I feel blessed and appreciative."

This feature story was submitted to Ferris State University and republished with permission from Corewell Health Beat.