Daniel deRegnier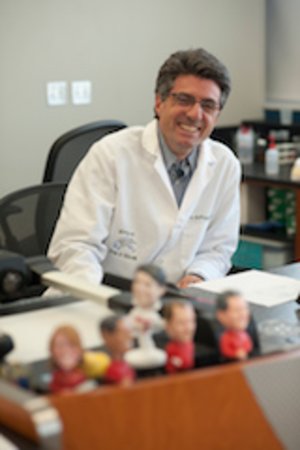 Associate Professor
Program Coordinator
Diagnostic, Laboratory, and Therapeutic Sciences
Phone: (231) 591-2327
Email: [email protected]

Education
MS, University of Minnesota, Clinical Laboratory Science, Clinical Microbiology
Certificate, Allen Hospital School of Medical Technology, Medical Laboratory Science, MT
BA, University of Northern Iowa, General Science, Medical Technology
Biography
The focus of my professional life has been medical laboratory science. I began my career working in a hospital laboratory and quickly wanted to expand my opportunities. I was hired as an adjunct instructor to fill in for the full-time microbiology professor at a nearby university. I would say that was a turning point for me.

I earned my Masters degree in Clinical Laboratory Science with an emphasis in diagnostic microbiology and education and started my first full-time teaching position soon after graduating. It was a wonderful opportunity for a novice instructor. Several years after that I found myself at Ferris State and have been here for more than 25 years. I still teach my favorite subjects, but am also the Program Coordinator for the Medical Laboratory Science (MLS) and Medical Laboratory Technology programs (MLT).

With the help of the other great program faculty and staff, along with administrative support, we continue to graduate highly qualified medical laboratory professionals that contribute to the medical decisions made by clinicians daily.
Publications and Intellectual Contributions
Journal Article
Kepczynski, C. M., Genigeski, J. A., deRegnier, D., Jadhav, E., Sohn, M., Klepser, M. E. (2021). "Performance of the BD Veritor system SARS-CoV-2 antigen test among asymptomatic collegiate athletes: A diagnostic accuracy study," Exploratory Research in Clinical and Social Pharmacy. 3 Elsevier.
Presentations
Oral Presentation
deRegnier, D., Clinical Laboratory Educators Conference, "Simulation in Laboratory Education: Best Practices, Models, and Future," American Society for Clinical Laboratory Science, Orlando, FL, (February 27, 2020).
Lecture
deRegnier, D. P. (Author & Presenter), Annual Conference - It's In Our Blood, "Prosthetic Joint Infections," ASCLS - Michigan, E. Lansing, (April 10, 2019).
Lecture
deRegnier, D. P. (Author & Presenter), Conference on Aging, "Immunosenescence - The Aging Immune System," Ferris State University, Big Rapids, (April 8, 2016).
Oral Presentation
deRegnier, D., ASCLS-Michigan General Meeting, "Microbiology Review," ASCLS-Michigan, St. John's MI, (April 17, 2015).