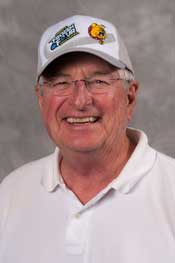 Dr. Carter received his Doctor of Optometry degree from Indiana University in 1970 and has been licensed to practice in Michigan ever since. After spending 3 years in the United States Air Force and two years on the clinical faculty at Indiana University, he was recruited to be one of the initial 3 faculty to start the College of Optometry at Ferris State College in 1975. In 1979-80, he spent a year's leave-of-absence in the Department of Ophthalmology at Henry Ford Hospital in Detroit, and in 1998-99, he spent a year's sabbatical leave at the Department of Optometry and Vision Science at the University of Auckland in New Zealand. His classroom and clinic assignments have varied greatly over his 36 years as a faculty member at Ferris, but his greatest joy came from working with students and patients in the various clinics run by MCO. He retired in December, 2011, but stayed on as a clinical adjunct until 2016.
He worked for the Indian Health Service at Kincheloe in the upper peninsula during the summers of 1980, '81, and '82, and owned/worked in a private practice in Big Rapids from 1983 to 2006. He also was a volunteer on 16 overseas eyes care missions in Belize and Dominica.
Dr. Carter served on the Board of Trustees of the Michigan Optometry Association from 1982 until 1990 and was President in 1989. He served on many college, state and national association committees and was Legislative Committee Chair of the MOA from 1990-1995. He was instrumental in the passage of legislation and orchestrating the educational programs that allow optometrists to prescribe medication for a host of eye diseases including glaucoma. He will tell you that his three greatest professional achievements were being one of the initial faculty members to start the College of Optometry at Ferris, securing the passage of therapeutic legislation in Michigan, and being the Chair of the Facilities Committee that designed the building that houses the College.
Dr. Carter has been married to his wife Jane for 55 years, has two adult sons (both FSU grads), and has 4 grandchildren. He is an avid golfer and volunteered as a course rater for the Golf Association of Michigan for 30 years. He also volunteers at Manna Pantry and is a volunteer driver for BR RSVP and Angels of Action.