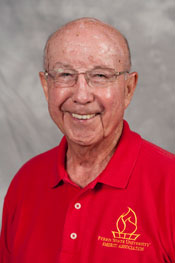 Social Chair
Walt has been Social Chair of the Ferris Emeriti Association since 1998. Walt was born and raised in the little town of Kinde, MI between Port Austin and Bad Axe, in the thumb of Michigan. Walt graduated from Michigan State University in 1955 with a BA in Hospitality Management.
He served with the Army in the Quartermaster Corps from 1955-1957 as the Administrative Officer at the Quartermaster Market Center Headquarters. in Chicago, IL where he met his wife Pat. They were married in Oak Park, IL on May 17, 1958. They have 3 children, 9 grandchildren, and a great grandchild on the way.
Walt has worked in the foodservice industry since the 10th grade, including Interlochen, General Mills, and 7 Colleges, including the last 20 years at Ferris as Director of Dining Services, retiring in 1997. He continues to on the Advisory Board for the Hospitality Program at Ferris.