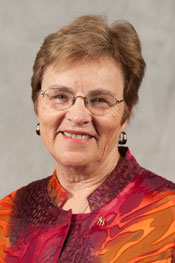 Barb Johnson became a member of the Ferris State University Emeriti Association when she retired as Office Manager in Admissions and Records in the office of the Enrollment Services in 1996. She has served on the Board of Directors of the Emeriti Association since 2006 and has held positions of Arizona Liaison, Membership Chair, and Secretary.
Barb began her career at FSU in 1977 as Department Secretary in Environmental Health in the College of Allied Health and then moved to Office Manager for Student Records in the College of Business. From there she moved to Enrollment Services to finish her time at Ferris. During her tenure, she served as Vice-Chair and Chair of the Women's Professional Development Conference, was an active member of Professional Secretaries International, and participated in numerous campus committees. She was active in College Office Girls (COGS), who were members of the support staff in various offices on campus; this group gathers annually in the spring to renew friendships and participate in a baby shower for newborns at the Birthing Center of Spectrum Health Big Rapids Hospital.
She was honored and humbled to be selected to receive the Distinguished Staff Award in 1994. To receive this award, she was anonymously nominated by her peers and chosen by a campus-wide committee. Barb is a proud Bulldog and usually wears a Bulldog pin on her lapel.
Barb is married to Newell Johnson, FSU Professor Emeritus, Automotive and Heavy Equipment Management. They have two daughters who are both FSU Alumni, and one grandson who may be a future Bulldog.