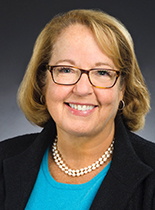 Appointed December 20, 2016 by Governor Rick Snyder
Amna Seibold, mayor of East Grand Rapids, joined the Ferris Board in January of 2017.
She was elected mayor of East Grand Rapids, in 2011, after six years of service as a city commissioner and five years as a planning commissioner. A 1975 graduate of East Grand Rapids High School, she attended Albion College and later earned her master's degree in health administration from the University of Michigan. She is also the director of pathology at Mercy Health Saint Mary's in Grand Rapids.
Her term expires Dec. 31, 2024, filling the seat previously held by Alisha M. Baker.