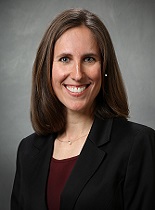 Appointed October 17, 2018 by Governor Rick Snyder
Kari Sederburg is senior program officer with the Michigan Health Endowment Fund in Lansing. Previously, she served as the executive director of the Michigan Aging and Adult Services Agency. She earned her bachelor's degree in public relations from Ferris' College of Business in 2002 and her master's degree in public administration from Ohio University.
She resides in East Lansing and will serve a term expiring Dec. 31, 2026, filling the seat previously held by Paul Boyer.