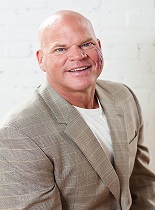 Appointed October 17, 2018 by Governor Rick Snyder
Kurt Hofman, Ferris alumnus and executive vice president at RoMan Manufacturing, joined the Board in January 2019.
Hofman earned an associate degree in Welding Engineering Technology from Ferris' College of Engineering Technology in 1983 and a bachelor's degree in Welding Engineering from Arizona State University.
He serves on the advisory board for Ferris' Welding Engineering Technology program and is chair-elect for The Ferris Foundation Board of Directors. In addition, he has served the industry in various roles including those of Chairman of the Western Michigan Section of the American Welding Society and member of the Board of Directors of the Resistance Welding Manufacturing Alliance where he chaired various committees
Hofman resides in Grand Rapids and will serve a term expiring Dec. 31, 2026, filling the seat previously held by Gary Granger.