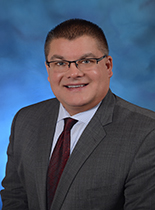 Appointed December 20, 2016 by Governor Rick Snyder
Robert J. Hegbloom, president and CEO of Fiat Chrysler Automobiles' Ram Brand, joined the Ferris Board in January of 2017.
Hegbloom is a 1986 graduate of Ferris' College of Engineering Technology with a Bachelor of Science in Automotive Management and an associate degree in Automotive Service Technology. In May 2016, he was awarded an Honorary Doctorate of Business and Industry, from Ferris, at its Spring 2016 commencement ceremony. In his career, he has advanced from service and parts management to various marketing management positions, before he was named director of truck, commercial and SUV product planning, in 2010. Hegbloom became director of Ram Brand product marketing a year later, and president and CEO of the brand, in 2014. In the two years since, he has become head of Ram Brand, nationally and internationally.
He resides in Clarkston and will serve a term expiring Dec. 31, 2020, filling the seat previously held by Erin R. Brown.