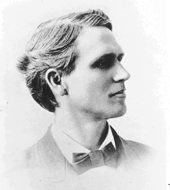 Woodbridge Nathan Ferris was born in Spencer, Tioga County, New York, on January 6, 1853, and died in Washington, D.C. on March 23, 1928 at age 75. He rests eternal at the Highland View Cemetery in Big Rapids, Michigan.
Mr. Ferris attended Spencer Academy, Candor Academy and Owego Free Academy in New York and the Oswego (NY) Normal and Training School (1870-73). He also was a student in the medical department of the University of Michigan at Ann Arbor (1873-74).
Woodbridge was principal of the Spencer Academy (1874-75), of the Freeport (Illinois) Business College and Academy (1875-76), was principal of the Normal Department of the Rock River University (1876-77), and was co-founder and teacher of the Dixon (Ill.) Business College and Academy (1877-79). He was superintendent of schools in Pittsfield, Illinois from 1879-84.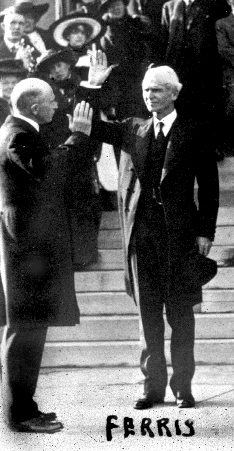 In 1884, Woodbridge established the Big Rapids Industrial School, later renamed Ferris Industrial School (about 1885), Ferris Institute (about 1898), Ferris State College (1963), then Ferris State University (1987). He served as president of Ferris until his death in 1928.
Woodbridge was once the president of the Big Rapids Savings Bank (First National Bank and Trust, Chemical Bank) from May 1, 1902 until his death in 1928. Mr. Ferris campaigned for the United States Congress in 1892 and for Governor of Michigan in 1904 and 1920. He was elected Governor of Michigan twice (1912 and 1914). He was elected to the United States Senate in 1922 and served until his death.
Woodbridge received honorary degrees from Michigan State Normal college (Eastern Michigan University), Olivet College, the University of Michigan and University of Notre Dame.
On December 23, 1874, he married Helen (Nellie) Frances Gillespie. She was born on September 7, 1853, and died March 23, 1917. She was a graduate of Oswego Normal and Training School's English department.
Mr. and Mrs. Ferris had three sons: Carleton Gillespie (Sept. 18, 1876-Nov. 24, 1961); Clifford Wendell (June 3, 1881-Sept. 20, 1881); and Phelps Fitch (April 16, 1889-Dec. 10, 1935). On August 14, 1921, Mr. Ferris married Mary E. McCloud (1882-1954).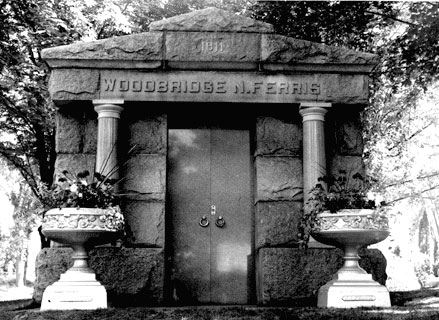 Highland View Cemetery - Big Rapids, Michigan