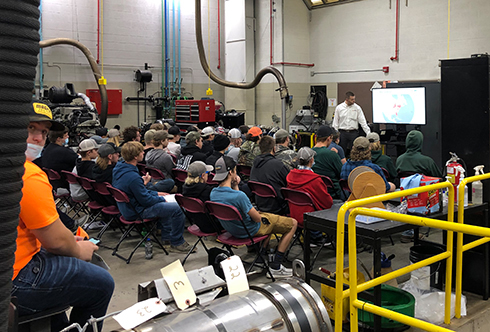 Students from across Michigan's lower peninsula will arrive at Ferris State University's Heavy Equipment Center Wednesday, Oct. 5, and Thursday, Oct. 6, for Diesel Days. Approximately 600 students and their educational supporters will meet with Heavy Equipment instructors, enrollment professionals and contacts from industry partners in this second annual event.

The Heavy Equipment Department in Ferris State University's College of Engineering Technology will see its center bustling with visitors on Wednesday, Oct. 5, and Thursday, Oct. 6, for the second annual "Diesel Days" program. Organizers expect to welcome nearly 600 high school students, besides faculty and staff members.
Program Coordinator Daniel Meyers said the positive response from all involved with their first Diesel Days in 2021 prompted them to grow the event.
"We were so pleased by our initial success. We will welcome 40 percent more students to campus from intermediate school districts, regional educational service agencies and career training centers these two days," Meyers said. "We want students to know about the wide range of career opportunities available in the heavy equipment industry."
Meyers said there will be various industry partners ready to engage with the students beyond Ferris faculty and staff members on hand to answer programmatic and admissions questions. In addition, Meyers said company representatives will explain how their corporations and businesses hope to offer rewarding career opportunities to students with this learning.
"Our corporate contacts are so responsive. We will have stations set up outside the building both days," Meyers said. "We are excited about the level of interest from the industry. This extended lineup is a good problem to have."
Ferris offers an Associate of Applied Science degree in Heavy Equipment Technology (HEET) and the country's only Bachelor of Science program in Heavy Equipment Service Engineering Technology (HSET). Another point of pride for the HSET and Heavy Equipment Technology faculty, Meyers said, is engagement from program graduates.
"Many of our alumni, including recent graduates, are steering their companies to participate with and support the program, "Meyers said. "It is great to have these young professionals wanting to give back at this point in their careers, really very humbling for us."
Meyers said the students will rotate through four stations during their visit, with a lunch break at The Rock on campus, before returning to their home districts.
"While the industry partners explain their hopes and career prospects to these students, we will be happy to discuss either of our degree programs with them," Meyers said. "Most HSET graduates complete the associate degree on their way to completing their Bachelor of Science studies."
An open house from 1 to 3 p.m. on Wednesday, Oct. 5, will also be available to inform current Ferris students about the Heavy Equipment programs. Diesel Days will be hosted in the Heavy Equipment Center, at 220 Sports Drive, on the south end of campus.