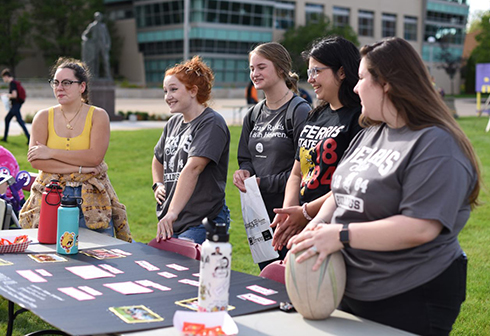 Numerous types of student organizations are just some groups that will have members at tables on the Robinson Quad Wednesday, Sept. 7 from 4 to 7 p.m., as Ferris State University students are welcomed to the Bulldog Bonanza.

A traditional element of Ferris State University's Bulldog Beginnings schedule takes to the Robinson Quad Wednesday, Sept. 7, as Bulldog Bonanza runs from 4 to 7 p.m.
Center for Career and Professional Success Director Angela Roman said with over 200 registered student organizations on the Ferris campus, new and returning students can find an opportunity for personal and professional growth by expanding their network of contacts.
"Ferris' RSOs are a great way to get to know faculty and staff, along with alumni and fellow students who share the same passions and interests," Roman said. "You may find that you come to know your future employer or co-workers through your participation and contributions in these organizations."
Strolling the Robinson Quad on Wednesday, Sept. 7, will allow students to consider foreign language and literature-focused clubs, faith-based and special interest groups, and club sports that compete in circuits based in Michigan and the Midwest.
"An RSO is a great way to spend time outside the classroom, or where you live, on or off-campus," Roman said. "Whether you take a leadership role or follow along as a member, students will develop important skills in the workplace while providing great joy and lifetime memories."
Nick Smith, the Activities Coordinator for the Center for Student Involvement, said Bulldog Bonanza also serves as an excellent time to learn about many Big Rapids businesses that participate to make themselves known to Ferris students.
"We have always had a great response to this event, and with the changes brought on in the last couple of years, interest in participation has jumped up, again," Smith said. "It's a valuable time to learn about where you are and what is available by just stepping outside your circle, on campus or in Big Rapids."
Weather forecasts call for a sunny, pleasant day on Wednesday. However, Roman said Bulldog Bonanza would be held in the David L. Eisler University Center if inclement conditions develop.
"We hope each student considers the prospect of making an impact on our campus through the work of an RSO," Roman said. "So much can be gained by coming to the Bonanza with an open mind and heart."
The entire 2022 Bulldog Beginnings schedule of events, organized to welcome Ferris students to campus and the academic year, is available online.