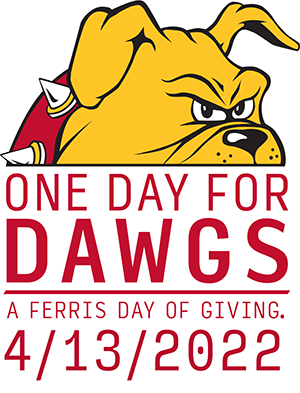 Approximately 40 groups on the Ferris State University campus are preparing for the fourth One Day for Dawgs, a 24-hour fundraising appeal set for Wednesday, April 13.
Teams preparing for One Day for Dawgs, a 24-hour Ferris State University fundraising campaign on Wednesday, April 13, are growing in number, according to organizers in University Advancement and Marketing and The Ferris Foundation.
Advancement Communications Specialist Megan Eppley said approximately 40 teams are promoting their appeals to fund scholarships, proposing support for instructional technology purchases and other specialized requests to benefit their academic program or department.
"The majority of our participants have been involved in One Day for Dawgs before, but word is spreading about the potential and impact these campaigns can have, so new groups are joining with appeals, heading into this year," Eppley said. "While many teams seek to raise funds for endowments that take advantage of the Ferris Futures Scholarship Challenge, some proposals focus on purchases to facilitate learning in the classroom or laboratory."
This year marks the fourth that One Day for Dawgs will occur, though all efforts in the spring of 2020 supported a Student Hardship Fund. After a record response of more than $236,000 in 2021, Eppley said that the collaborative efforts of individuals and teams currently involved should produce another significant result.
"The opportunity to bring alumni, friends and family back, in a focus on the campus community, can make a difference in the learning and lives of our students," Eppley said. "It is not too late to define and begin an appeal. There is a fundraiser toolbox available, and we welcome all questions and calls about assisting people or groups who have an interest in joining One Day for Dawgs."
Eppley is available by email or on campus by calling (231) 591-3812.