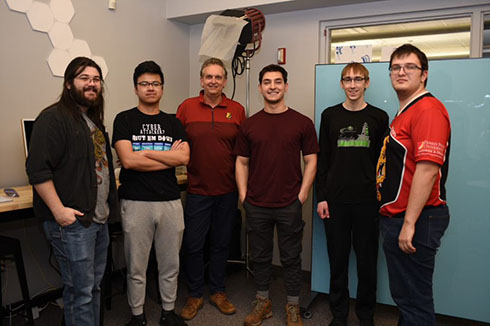 Associate Professor of Information Security and Intelligence Jerry Emerick (third from left) will be the latest Ferris State University Fulbright Scholar in the spring of 2023, when he serves as a teacher and researcher at the St. Polten University of Applied Sciences, in Austria. He is pictured with a team of ISI students who took part in a national cybersecurity competition called "Hack The Port," held in Fort Lauderdale, Florida, earlier this year.
Ferris State University Associate Professor of Information Security and Intelligence Jerry Emerick has received a 2023 Fulbright Scholarship to work with faculty at the St. Polten University of Applied Sciences in Lower Austria. Emerick, active in cybersecurity conferences and student competitions, is eager to gain insights on critical infrastructure protections through this award.
"Seeking this opportunity and confirming my Fulbright has taken about a year," Emerick said. "I applied in Fall 2022. I received a notification about my award in the spring. I am looking forward to being in Austria for Spring 2023."
Emerick expects St. Polten to provide him with a collaborative opportunity related to instruction and research.
"I will teach two classes at its cyber defense center, which has a great reputation for its instruction in critical infrastructure cybersecurity," Emerick said. "They are a destination school for students across Europe, which will afford me a real cross-cultural enrichment. I believe that will be a real asset to my instruction when I return to Ferris' Center for Cybersecurity and Data Science."
Emerick's Fulbright Scholarship research focuses on cybersecurity curriculum design and the gamification of cybersecurity.
"I hope my participation encourages greater international opportunities for our program and its students so that we can continue to further the stature of ISI instruction at Ferris," he said.
Provost and Vice President for Academic Affairs Bobby Fleischman said Emerick's award is a reason to celebrate the university's continued pursuit of academic excellence.
"This prestigious honor serves to build upon Ferris's legacy in the Fulbright community of scholars," Fleischman said. "We are thrilled by Dr. Emerick's well-deserved recognition as a Fulbright Scholar and look forward to celebrating this very special distinction in the Ferris community."
After 20 years in the information systems business environment and 10 years as an adjunct faculty member, Emerick joined the Ferris ISI program as a full-time faculty member in the Fall of 2011. He actively supports participation in the National Cyber League and the Collegiate Cyber Defense Network (CCDN), advises the ISIA student organization, and coordinates attendance and participation in annual cyber security conferences for faculty and students.