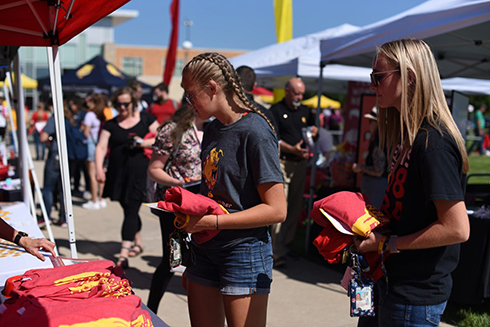 Ferris State University students are welcome to enjoy a variety of treats and entertainments on the Robinson Quad Thursday, Sept. 1, as the annual Founders' Day activities take place on the Robinson Quad of the Big Rapids campus.

A new administration is embracing traditional aspects of Ferris State University's annual Founders' Day celebration, scheduled for Thursday, Sept. 1, on the Big Rapids campus. Traditionally hosted on the first day of the fall semester, this year Founders' Day coincides with the opening of the Big Rapids Industrial School, founded by Woodbridge and Helen Gillespie Ferris on Monday, Sept. 1, 1884.
President Bill Pink, who started in July as Ferris' 19th president, will give his first Founders' Day speech to an audience in the David L. Eisler Center Ballroom at 11 a.m. From there, a variety of events are on the schedule through collaborative efforts that include the President's Office, David L. Eisler Center staff, Dining and Catering, Center for Student Involvement, Center for Career And Professional Success and Grounds staff to celebrate the contributions of Woodbridge and Helen.
Kathryn Thomas, an assistant with CAPS and a Founders' Day committee member, said students, faculty, staff and Big Rapids community are invited to the Robinson Quad for an enjoyable day of social and personal development opportunities.
"There will be a luncheon for Ferris faculty and staff, which will begin immediately after President Pink's speech," Thomas said. "Our Dining and Catering staff will have a similar picnic planned for our students from 4 to 6:30 p.m."
At 3 p.m., the Robinson Quad fills with Legacy and Crimson registered student organizations, campus departments and local nonprofits in a resource fair as part of the Founders' Day Extravaganza and Ice Cream Social.
"There are around 40 RSOs that will take part, offering a chance for our students to get involved in good works as the academic year begins," Thomas said. "We have also arranged for an area where bumper cars can be enjoyed near the Ferris statue and FLITE. More fun can be had on an inflatable obstacle course on the south end of the Robinson Quad near Clark Hall, while the Balsam Brothers Band is on stage, providing musical entertainment."
The fun continues for all attending the extravaganza as community partners take scoops in hand for the Ice Cream Social, according to Thomas.
"The President's Office coordinates with local dignitaries to serve Jones Ice Cream, a regional favorite," Thomas said. "Those treats will be available from 3 p.m. till the supplies run out. At 6 p.m., we identify winners of our prize drawings at the Robinson Quad stage. All those who win the raffle need to be on hand to claim their prizes, ranging from a large screen TV to other great items."
Thomas said the Founders' Day schedule provides students ample opportunity to head to Top Taggart Field for the football game. The Ferris State Bulldogs begin defense of their NCAA Division National Championship as they host the Central Washington University Wildcats at 7:30 p.m.
"We hope all our students take part in and enjoy Founders' Day, by gathering with their friends and taking this opportunity to make new friendships at our many events," Thomas said.
Those arriving on campus to take part in Founders' Day Extravaganza activities are asked to use Lot 3A near the David L. Eisler Center. Football gameday parking attendants will be in place by 4:30 p.m., with lot access available near Top Taggart Field beginning at 5 p.m.