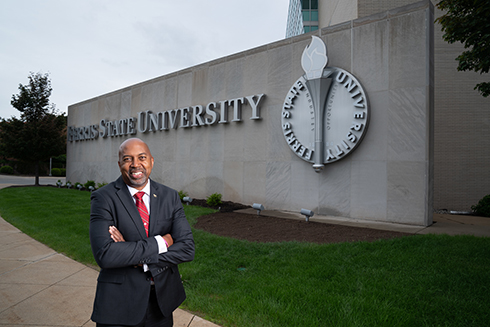 President Bill Pink officially began leadership at Ferris State University on July 11, 2022.

The last week of August features Ferris State University students returning with a change in the air. University leadership has changed, new academic programs are starting and construction projects continue on schedule.
Bill Pink began duties as Ferris' 19th president in early July, becoming the first African-American appointed to the position since the university's founding in 1884. Pink comes to Ferris with more than 30 years of active leadership in education on the national and local levels.
Provost and Vice President for Academic Affairs Bobby Fleischman noted six new academic programs students can now pursue, including an Associate of Applied Science (Community Leadership, Computer Information Technology), Bachelor of Science (Economics, Professional Esports Production), Master of Science degree in Data Science and Analytics and a graduate certificate program in Advanced Studies in Data Analytics. These are among more than 180 academic degree opportunities with high-pay, high-demand career options.
"We are excited to continue meeting students where they are and where industries are going," Fleischman said. "Our intention with all academic programs is to lead students to a job."
The provost added, "The Professional Esports Production curriculum is an online degree that allows us to extend the university brand beyond Michigan, to a national and international audience. The Master of Science in Data Science and Analytics and the Data Analytics certificate program are consistent with Ferris' heritage and in rhythm with the current needs of industry."
Classes for the Fall 2022 semester begin on Monday, Aug. 29.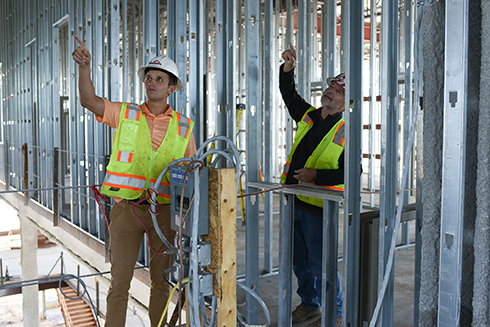 Contractors continue to make progress on Ferris State University's Center for Virtual Learning, as campus projects continue ahead of the 2022-23 academic year. Students begin moving into residence halls and other facilities on Thursday, Aug. 25 with the start of the 2022 Fall semester on Monday, Aug. 29.

Associate Vice President for Physical Plant Chad Stirrett said campus construction and renovation projects are progressing. These projects include the $32.5 million Center for Virtual Learning, which is expected to be ready for the start of the Fall 2023 semester.
"Work on the Center for Virtual Learning is right on schedule, with the next milepost being the completion of the exterior envelope by early November," Stirrett said. "We will take up important aspects of the project, such as buying the necessary IT equipment now, to assure key aspects of the project will remain on schedule."
Stirrett said the Center for Virtual Learning development should be completed by late Spring 2023, with academic programs and departments moving in during Summer 2023.
The Center for Athletics Performance and the Alumni Building projects construction and renovation efforts that are advancing as planned, according to Stirrett.
"Ferris Athletics is cleared to use the ground floor locker room spaces as of early this month, in time for fall sports teams to begin their preseason camps," said Stirrett, who noted the Alumni Building project is progressing despite some additional clean-up efforts.
Housing and Residence Life Executive Director Lisa Ortiz said Move-In Days begin Thursday, Aug. 25, and noted collaboration with the Extended and International Operations office has provided a new offering for students to enjoy in their free time.
"We took a space in Bond Hall that had been a computer lab and repurposed that as an Esports arena," Ortiz said. "When students want to enjoy our beautiful campus out of doors, they will find hammock stands becoming available in the South and West campus areas, where their hammocks will be welcomed."
Also, on Thursday, Aug 25, the Admissions and Financial Aid offices will offer the final orientation session. More than 130 students completed their onboarding process with the university in this program, arranged in an express format from 8:45 to 11 a.m.
On Thursday, Aug. 26, more than two weeks of activities and events will begin as the Center for Student Involvement collaborates with other campus operations for Bulldog Beginnings. High-profile activities include the Bulldog Welcome on Friday, Aug. 26 beginning at 7 p.m. on the South Quad near The Rock Cafe, a UC Late Night celebration in the David L. Eisler Center Saturday, Aug. 27 and Founders' Day, a campus-wide celebration on Thursday, Sept. 1.