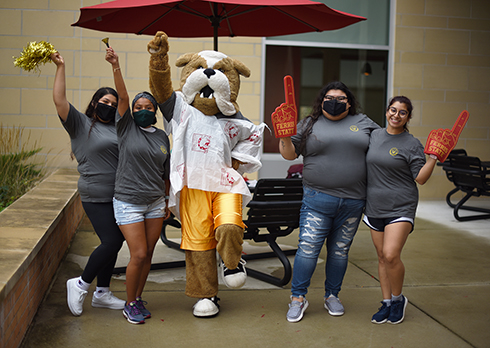 One of the exciting parts about the start of Bulldog Beginnings, two weeks of activities to kick off the 2022-23 campaign, is the start of students moving back to Big Rapids and into on-campus residence halls and apartments beginning Thursday, Aug. 25.

This year's Bulldog Beginnings schedule welcomes new and returning Ferris State University students while mixing new and traditionally popular events to kick off the 2022-23 academic year.
Associate Dean of Student Life Nicholas Campau co-chaired the committee of staff and students arranging the roster of this fall's Bulldog Beginnings events. Campau shared that role with Angela Roman from the Center for Student Involvement. Campau said as students settle in their on-campus or off-campus residences, the Residence Hall Association invites them to the traditional Bulldog Welcome event beginning at 7 p.m. Friday, Aug. 26, on the South Quad. President Bill Pink will have a video greeting for students. The event further includes various activities and prizes available to those who take part. Following Bulldog Welcome, there will be a showing of the 2007 comedy "SuperBad."
"Throughout the weekend, we are working to give the students what they want in terms of activities," Campau said. "One of our first offerings will be a Speed Friending event at 2 p.m. Saturday, Aug. 27, where we hope the quick encounters with new faces lead to a larger circle of acquaintances for our participants."
Campau said the LGBTQ+ Resource Center hosts an All Bodies Rainbow Dance Party from 6 to 8 p.m. on Saturday, Aug. 27, on the Robinson Quad.
"There will be a roller rink in the Eisler Center ballroom as part of a Late Night event also planned for Saturday, Aug. 27, from 8 to 11 p.m.," he said. "Karaoke, arcade games and bingo have long been part of this activity, and we are pleased to stock up on prizes so students can join with their friends or make new ones while they gather for fun."
Greeks on the Quad begins at 11 a.m. on Sunday, Aug. 28, on the Robinson Quad, with a Center for [email protected] Studies event, the Hispanic/Latino/a/x Welcome Back Mixer, scheduled from 5 to 8 p.m. in the IRC Courtyard.
"Greeks on the Quad has support from the Student Activities Fund, so there will be a variety of food trucks and carnival games, along with representatives from so many groups on hand," Campau said. "The InterFraternity Council and Panhellenic groups are sponsors for that event."
Bulldog Beginnings organizers have arranged multiple opportunities each day, Monday, Aug. 29 through Thursday, Sept. 1, for students to learn about culturally significant groups or engage with campus leaders.
"Rec Fest is Monday evening, 6 to 8 p.m. in the Student Recreation Center," Campau said. "You can learn about club sports and our intramural programs while looking at our wonderful facilities in the center. We will have an on-campus student employment fair from 10 a.m. to 2 p.m. Tuesday, Aug. 30, in the Eisler Center ballroom, which is a great opportunity to find work and connect with various programs and departments on campus."
Campau added, "Almost every organization has planned open house or welcoming outreach programs. The week's centerpiece is Founders' Day on Thursday, Sept. 1. There will be a festival atmosphere on the Robinson Quad, an ice cream social, and many great prizes for students to win. Our NCAA Division II National Champion Bulldog football team will begin defending its title against Central Washington at 7:30 that evening at Top Taggart Field."
For those interested in Labor Day Weekend activities, there will be a golf scramble at Katke Golf Course sponsored by the Student Recreation Center that tees off at 9 a.m. Saturday, Sept. 3. Also scheduled for that day is a bus trip to Michigan's Adventure will depart at 10 a.m.
Campau said the Center for Student Involvement offers a free meal to students on Wednesday, Sept. 7, from 11 a.m. to 1 p.m., then taking to the Eisler Center as of 4 p.m. that day for the annual Bulldog Bonanza. This collaborative event with Big Rapids area businesses and nonprofits in the community has been traditionally popular and well-attended.
"Our student organizations will be joined by many Big Rapids businesses and area nonprofits, all very interested in making themselves known to new and returning students," Campau said. "This event will continue to 7 p.m. and has long been a great way for students seeking volunteer hours to get involved with their campus and community."
Corey Bailey, of Van Buren Township, is a Music Entertainment Business student who has interned at the Office of Student Life. He said Bulldog Bonanza is a valuable opportunity to make connections that support students and the greater community.
"I think Bulldog Bonanza is one event everyone should attend since it is an awesome way to meet with student organizations," Bailey said. "I recommend that students find at least one club that is interesting to them."
Bulldog Beginnings' second week also provides more chances to engage with members of groups affiliated with the Office of Multicultural Student Services, the Center for [email protected] Studies and the LGBTQ+ Resource Center. Campau marveled at the staying power bingo has with Ferris students, noting the Drag Bingo set for Friday, Sept. 9 at 6 p.m.
"We are pleased that these games and gatherings have such a warm spot in our students' hearts," Campau said. "There will be prizes and fun for everyone taking part following our second week of fall classes."
Entertainment Unlimited presents the wrap-up event for Bulldog Beginnings on Saturday, Sept. 10, as Pyrotechniq performs their juggling, dancing and measured mayhem event on the Robinson Quad stage. Campau said their intricate use of flaming torches and other devices will be a visual treat for all who attend this 8 p.m. event.
"We think Pyrotechniq is a great capping event to Bulldog Beginnings in 2022," Campau said. "We are excited to offer our students a full in-person lineup of gatherings and shows. Our goal this year in Bulldog Beginnings was to help make campus feel like home for our students. We believe this schedule can be a big part of creating lifelong memories while students enjoy friends and kick off their academic year."
The Center for Student Involvement hopes that all participants take pictures of their activities to their social media accounts during Bulldog Beginnings, suggesting they use the hashtag #ImABulldog to help spread the good feeling. Bailey said he has high hopes for the schedule and efforts to build an inclusive, engaged campus community.
"I am excited to interact with the returning and incoming students this year," Bailey said. "We are proud of the schedule we have assembled and want everyone to participate in the events that interest them while considering new ways to connect with other Bulldogs and enjoy each other."