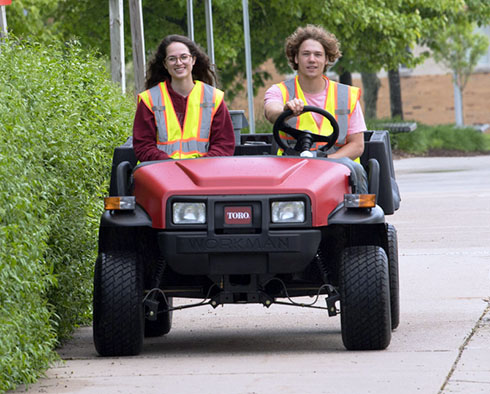 Summer employment with the University Grounds crew is one example of opportunities that could qualify a student for free or low-cost options to spend the summer in a Ferris residence hall or university apartment building.
Familiar surroundings and situations are available to Ferris State University students during the Summer 2022 semester. Housing and Residence Life and Admissions point to opportunities and benefits of work and study while staying on campus during the summer.
Interim Housing and Residence Life Director Lisa Ortiz said they have a variety of plans, including a no-cost option to stay in a residence hall double room. That applies to those students taking six or more credit hours in the summer semester, along with students who are full-time university employees, with a housing contract for the 2022-23 academic year.
"There are a variety of plans for single residence hall rooms and spots in East Campus Suites and the West Campus Apartments, so individual students, groups and families can determine what is best for their situation and budget," Ortiz said. "Students who have already signed up are excited about the opportunity to stay on campus, as we have flexible agreement options to assist those whose classwork may wrap up in June."
Assistant Director of Admissions Jason Daday said that many student employment options are available in the summer. He added that those considering a no-cost option in the residence hall can search for employment or take up studies in partial semester offerings or those delivered in a conventional format.
"The summer is a great time to take courses and move closer to completing their degree," Daday said. "For those looking to remain at the university over the summer, they should talk with their advisor to determine what classes can be taken and check with the Office of Student Employment to find out about positions that can qualify them for the requirements of their housing agreement."
Daday said orientation leaders working for Enrollment Services support incoming and future student visits and might be down the hall or in an apartment unit on campus.
"There is a more relaxed campus atmosphere in the summer, which affords students enjoyment of the city of Big Rapids and many recreational opportunities in this area," Ortiz said. "Those with questions about this process or an interest in signing up to secure their summer residence are welcome to email our office, or call (231) 591-3745."