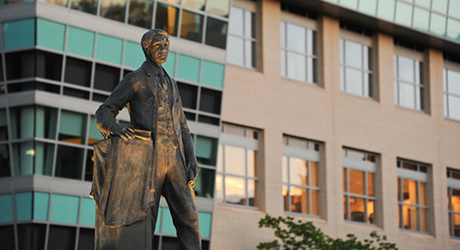 The 2021 Ferris State University Native American Heritage Month schedule features a range of events through the collaborative efforts of multiple offices.
Speakers, a display and Zoom sessions to view and review films are part of the 2021 Native American Heritage Month schedule at Ferris State University. The events roster is a collaborative effort by the Office of Multicultural Student Services, Center for Student Involvement and Kendall College of Art and Design.
OMSS Assistant Director Darnell Lewis said KCAD hosted Marcella Hadden, (Niibing Giizis Kwe), a citizen of the Saginaw Chippewa Tribe of Michigan's Marten Clan, as an opening event in a monthly Diversity/Equity and Inclusion series.
"Marcella has a long career with the Ziibiwing Center in Mount Pleasant, serving as the Tribal Historic Preservation Officer, while also offering her skills as a professional photographer and visual artist," Lewis said. "Her exhibition, Boontak! (Stop It!): Stolen Daughters of Turtle Island, raises awareness of Missing and Murdered Indigenous Women and Girls (MMIWG), which is a tragedy of the tribal communities." The Tuesday, Nov. 2 event took place in KCAD's Boyer Hall and as a Zoom meeting.
More materials from the Ziibiwing Center will be displayed in "Anishinabek Art and Tools," to be held Thursday, Nov. 4 from 10 a.m. to 7 p.m. in Room 209 of the University Center.
"We will have a Zoom meeting (Meeting ID 953 9881 5097), to watch 'Native Arts Now!', a 2017 film that celebrates contemporary Native American Arts and discuss on Tuesday, Nov. 9, which will begin at 7 p.m.," Lewis said. "On Tuesday, Nov. 16, we will have independent producer/director Audrey Geyer join us for a screening and discussion of her PBS documentary, 'Warrior Lawyers: Defenders of Sacred Justice," in a Zoom session (Meeting ID 910 9377 9065) starting at 6:30 p.m. We are so excited that she reached out to us regarding her 2019 documentary on Native American Lawyers and their work to address social welfare issues."
Lewis said students and community members are welcome to join them for the events and discussion.
"I am grateful to our partners in CSI and at Kendall, for their collaboration on what should be an interesting and thoughtful schedule of events," Lewis said.