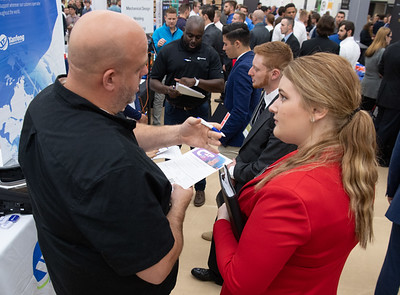 Ferris State University is gearing up for the fall Career and Internship Fair.
Necessity is the mother of alteration in organizing Ferris State University's Career and Internship Fair. This fall's fair takes place in five main-campus buildings from 11 a.m. to 4 p.m. Tuesday, Nov. 9.
Katie Thomas, an assistant with Career and Professional Services, is placing recruiters in the Interdisciplinary Resources Center (IRC), Michigan College of Optometry, Granger Center for Construction and HVACR, Student Recreation Center and University Center to provide improve access and participant safety.
"With the Center for Athletic Performance construction underway, in the Ewigleben Sports Complex, we opted to place employers in pods situated around campus," Thomas said. "We are excited to see how this serves our students as the IRC will be the site for employers interested in our College of Business and School of Criminal Justice students. We still encourage students to visit all five sites as this arrangement does not keep them from pursuing opportunities that match up with their qualifications."
Thomas said the response to the fall Career and Internship Fair has been encouraging.
"We have definitely improved on our participation compared to 2020-21," Thomas said. "We offered virtual Career and Internship Fairs for fall and spring in the last academic year, but returning to face-to-face interaction is intended to give our students every opportunity to connect and succeed."
More than 200 employers from the nonprofit, corporate, manufacturing, governmental and other areas of commerce and society are planning to take part on Nov. 9. Thomas said fair organizers expect to welcome 80 participating organizations for their Virtual Fair, from 12 to 5 p.m. on Friday, Nov. 12.
"We are changing the communication platform for this fair to Handshake, which will serve this purpose very well," Thomas said. "Our students are familiar with the system, and we expect they can pursue their goals to gain experience or enter their career path by taking part."
Career and Professional Services staff also suggest that students take steps to make their best impression by acquiring dress clothing, if necessary, and practicing interview responses and skills.
"There are business dress clothes available in the First Lady's Attic, along with workshops before the fairs and after," Thomas said. "We want our students to use best practices in their follow-up communications, so they can secure their internship or further interviews toward landing that job."
For more information, check the CAPS page on the Career and Internship Fair online.