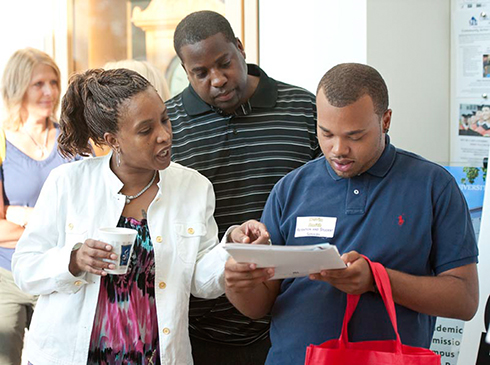 The next Dawg Days event is scheduled for Saturday, Nov. 13, on the Big Rapids campus.
A cross-section of Ferris State University's professional staff, faculty and students will share information, provide tours and answer questions from prospective Ferris students and their families at a Dawg Days on Saturday, Nov. 13, in Big Rapids.
Assistant Director of Admissions Jason Daday said this glimpse into the university's academic, extracurricular and social opportunities begins with check-in in the University Center at 9 a.m.
"After checking in at 9 a.m., Dawg Day visitors can make connections with staff, faculty and students who can provide information on specific academic programs and a wide range of university resources and services, from admissions and financial aid to student life, housing and more," Daday said. "It is our goal to see that prospective students and their families have a clear picture of what Ferris can offer, in terms of learning, campus engagement, opportunities for involvement, and the support available from the university."
Daday said that the Ferris campus shows very well at this time of year. The Office of Admissions enjoys providing the opportunity for prospective students to get familiar with the university, its programs, and its facilities.
"We provide prospective students and their families access to representatives from across the university's operations," Daday said. "We are so pleased that our colleges and departments look forward to Dawg Days and make participation a priority, so that prospective students can really learn about Ferris State University by attending a Dawg Day."
Dawg Days runs from the 9 a.m. check-in into informational programming, a student Q&A panel, lunch and a student-led campus tour.
"We seek to offer a view into student life, along with the opportunity to speak with program champions and experts from our departments," Daday said. "We wrap up our programming by 1 p.m., which allows our guests to attend the Ferris State-Wayne State football game, or if they choose to make a full day of it, the Michigan State Spartans take on the Bulldogs in an old-school rivalry hockey game, at 7:07 p.m. However they choose to build the experience, we encourage those at Dawg Days to explore what is happening on our vibrant and active campus."
Admissions has a variety of other visitation options available online.