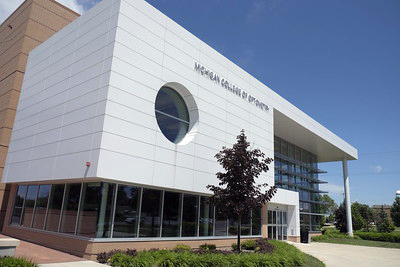 Thirty of Ferris State University's Michigan College of Optometry students plan to base their careers on a foundation of research and collaboration in part through participation in the Student Academy Fellowship of the American Academy of Optometry.
Paula McDowell, the chief of Pediatrics with MCO and an alumna of Ferris and MCO, will provide additional support as the faculty-student liaison to the Student Academy Fellows. McDowell said this group strives to achieve the highest practices in their field of study.
"Our Student Academy Fellowship members have begun the lifelong pursuit of learning, to fully understand the art and science of offering optometric care to their patients," McDowell said. "This program allows students to understand better what it takes to become a Fellow of the Academy after graduation, which is an earned distinction above and beyond their doctoral degree. Students may then continue in the path of scientific pursuit, conducting research, publishing peer review articles and making oral presentations on their learning."
Student Fellows can attend continuing education lectures, poster and research paper presentations and other opportunities at the Academy's annual meetings. McDowell said this year's Student Fellows group represents one of the largest MCO groups during its involvement with the program.
"Some years, there have been fewer than a dozen students taking part. We are glad this group of 30 comprises one of our larger cohorts in the Fellowship," McDowell said. "They understand the value of a focus on lifelong study in their field, which is a great attribute for their curricula vitae, demonstrating that they each aspire to achieve excellence in practice."
The first-year MCO Student Academy Fellows are Taylor Fiss, of Hugoton, Kansas; Guang Lim, of West Bloomfield; Abbey Mayer, of Saline; Ashley Peters, of Auburn; and Shelby Rauch, of Williamsburg.
Second-year participants: Hussein Abdulameer, of Big Rapids; Aleesha Anderson, of Austin, Minnesota; Alissa Athanaskos, of Richland Hills, Ontario, Canada; Courtney Bieszczad, of Marysville; Rachel Bushey, of Leslie; Allison Hyttinen, of Ishpeming; Rebecca Karl, of Ada; Areli Myorga, of Caledonia; Connor Monaghan, of Bay City; Karina Sandeen, of Harris, Minnesota; Taylor Scheurer, of Manton; Jason Spaude, of Saginaw; and Viet Vu, of Niagara Falls, Ontario.
Third-year Student Fellows include Ashley Bonneau, of Essex, Ontario, Canada; James Carpenter, of Northville; Rachel Chandra, of Farmington Hills; Paige Fuller, of Grand Rapids; Matthew Keller, of Mount Pleasant; Jordan Marentette, of Grand Rapids; Caleb Mergener, of Portage; Kristin Mohr, of New Ulm, Minnesota; Khushmaniot Pamma, of Mississauga, Ontario, Canada; Laura Paulson, of Delafield, Wisconsin; and Alyssa Van Werden, of Petoskey.
The fourth-year Student Fellow is Alina Usataia, of Toronto, Ontario, Canada.